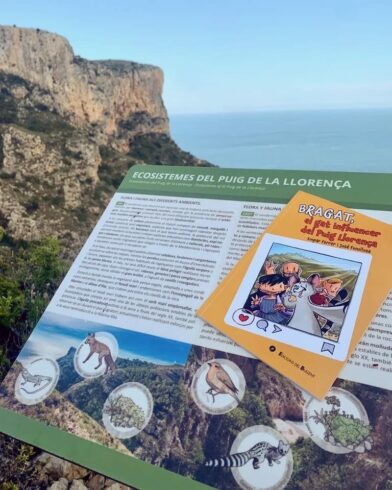 He Poble Nou de Benitatxell commitment to promote reading childish. The latest initiative launched by the Department of Culture To achieve this is the Instagram photo contest 'Learn with Bragat', which encourages people to take pictures with the story 'Bragat, the influencer gat of Puig Llorença', by the writer from Pueblo Empar Ferrer, in the various emblematic locations of the municipality that appear in the book.
The contest is aimed at the general public, but, as explained by the Councilor for Culture, Víctor Bisquert, "what we want is to involve especially the youngest and youngest so that they have a good time reading and, in addition, they receive a prize for doing so" .
The photographs must be published in instagram (either in a post, in a story or both) mentioning the @bragatthepoblerocat_ account. People must appear in them alone, with family and/or friends reading the book 'Bragat, the influencer gat of Puig Llorença'. They can be in color or black and white, and each participant can present up to a maximum of two photographs.
In addition to posting the snapshots on the social network, it is necessary to send them by email to tecniccultura@elpoblenoudebenitatxell.com. The deadline to participate is June 20. The three best photographs will be awarded with €100, €75 and €50 in purchase tickets from the local business.
In addition to promoting a love of reading, the aim of the contest is to publicize emblematic places in the municipality and promote respect for nature, the territory and its fauna. "Aprendre amb Bragat is a very complete contest. The book, with a large informative component, vindicates native animals, many of them in danger of extinction, and for this reason it is a defense of the environment, biodiversity and our roots", Bisquert has expressed.
For her part, the author of Bragat, Empar Ferrer, maintains that "I have always thought that literature should open up to new formats. I am a great fan of literary routes and I am delighted that such a special "cat" as Bragat comes to life beyond the pages of the story and is the protagonist of a photography contest. It is an excellent initiative. Promotes reading. The characters in books and stories come to life and, in the end, are part of us. This story will be enjoyed in a very special way by the boys and girls of El Poble Nou de Benitatxell, since Bragat is a poblero 100% cat that promotes poblera culture and traditions".