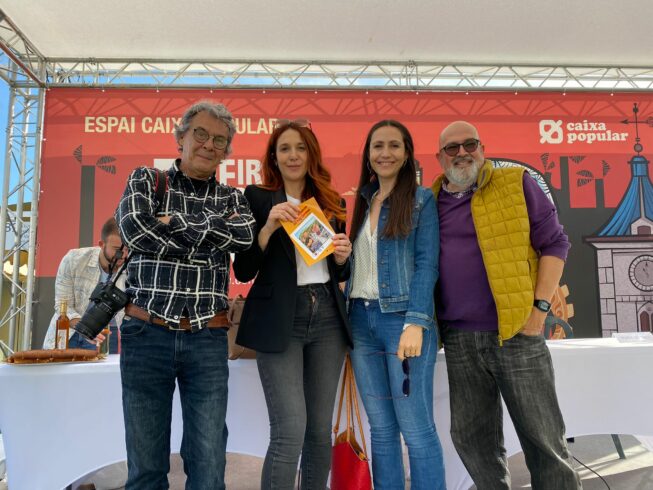 On Sunday, Bragat crossed the borders of El Poble Nou de Benitatxell to attend an important literary event: the Valencia Book Fair. This annual event that brings together hundreds of book lovers is an important showcase for publicizing the latest publishing news, as well as Valencian authors.
Among them was the writer Empar Ferrer, who, together with the illustrator José Fonollosa, the Councilor for Culture Víctor Bisquert and the editor Nuria Sendra presented the book Bragat, the cat influencer of Puig Llorença, co-published by the City Council of El Poble Nou de Benitatxell and the Bullent publishing house.
Its author gave some brushstrokes about the protagonist of the story and predicted with great conviction that "Bragat will enter your lives and leave a wild imprint in your hearts." He also signed several copies to the people who came to meet Bragat.
As he explained, Bragat is a cat who is adopted by a poor family after finding him lost in the mountains. "He feels so special because he is so different from the rest of the cats, that he becomes very conceited and opens an Instagram account (you can follow him: @bragatthepoblerocat_). He is obsessed with the networks and little by little he becomes very grumpy and aggressive when they take away his mobile. Finally he runs away from home and… let's see what will happen".
For his part, the Councilor for Culture expressed great satisfaction at the fact that the book, which bears the name of Poble Nou and its most emblematic places as a flag, has arrived at the Valencia Book Fair. "When Empar Ferrer presented this work to us, we knew that we had to carry it out for various reasons: because of the values it represents and because it defends native animals, many of them in danger of extinction. It is a defense of the environment, of biodiversity and, therefore, of our roots. But it also has some brushstrokes of the values with which our town hall and our people identify, such as the defense of LGTBI rights or the feminist struggle".