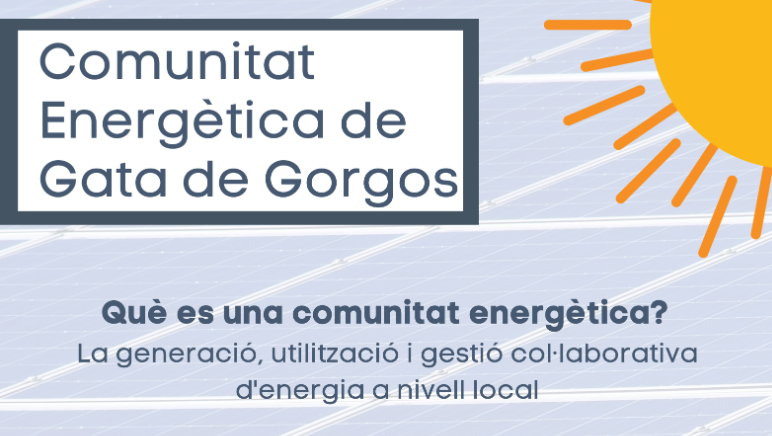 The Town Hall of Gorgos cat encourages the creation of a local energy community with the intention of promoting the use of renewable energy in the town. The neighbors will be able to learn about the project thanks to some informative workshops in which this proposal will be presented and all the doubts and queries that are planned will be answered.
The City Council presents to the public the creation of the Local Energy Community (CIELO) on Tuesday, May 24, at 7:00 p.m., in the Assembly Hall of the Integrated Social Center (CSI).
In addition to this first call for presentation of the local energy community, the following are also programmed:
• The "Co-creation of the Local Energy Community" workshop, on June 7 at 7:00 p.m.
• The workshop "We constitute the energy community", on June 21 at 7:00 p.m.
In the first informative session, the technicians will present what a CIELO consists of, what are the benefits (environmental, economic, etc.) derived, both for domestic economies and for the community. In the following sessions they will answer all the doubts and questions raised by the attendees, and they will explain how to create a CIELO, different legal forms, etc.
The Gata City Council launches this ambitious project with the collaboration of the company Sapiens Energía, leader in the Valencian Community in the management of projects for the creation of local energy communities and in the implementation and management of energy-producing technology.
Josep Francesc Signes, mayor of Gata, is pleased to undertake this process of collaboration and citizen participation "which encourages us to continue working to achieve the Sustainable Development Goals and that, in addition, it will be very beneficial for the families that join. In fact, the benefits of the Gata de Gorgos installation will reduce the Institute's electricity supply bill".
Juan Sacri, President of Sapiens Energía, highlights the efficiency of the project and the impact on the environment: "it is important that citizens know that local energy communities represent direct savings of between 10 and 30% on the electricity consumption bill. However, it is even more important that they are aware that this action, added to other similar ones, is essential in the fight against climate change".