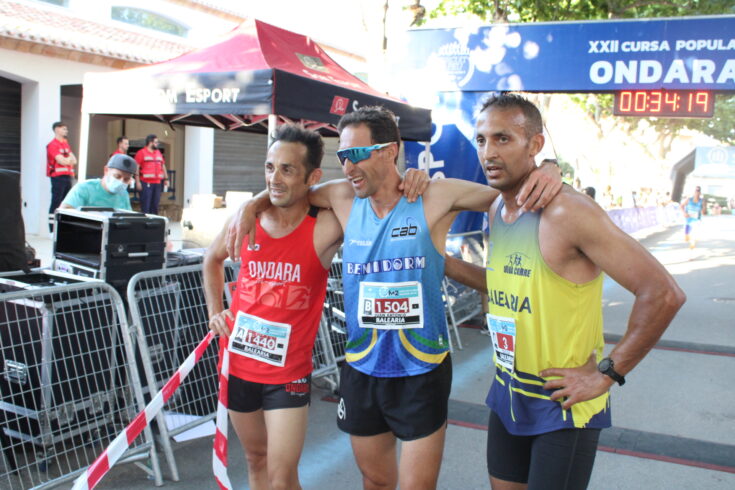 The 22nd edition of the Return to Peu de Ondara, scoring test for the Circuit to Peu Marina Alta, was a success: 1,300 people, including children and adults, participated in the test with the joy of being able to enjoy at the end of the athletics normally.
The queen test, the 10 km, was very disputed and was decided at the last moments. The victory went to Juan Antonio Fernández, from CA Benidorm, with a time of 34'01". Behind, a few meters away, came Youssef Ahatach, from the Dénia Corre Club, with a time of 34'07", and Jorge Llácer, from the Ondara Tri-Sport Club, who covered the 10 km in 34'13".
For her part, the first woman was María Isabel Ferrer, from CA Llebeig de Xábia, who dominated the test from the beginning. His time was 37'17". The second classified was Cristina Roselló, from CA Publidom, with a time of 39'23", and the third was Andrea Abad, also from CA Publidom, who did a time of 39'31".
As for the local podiums, in the men's category the first classified was Vicent Aparisi, followed by José Pons and Francesc Vicent Roselló, all of them from the Ondara Athletics Club. While in the female category, the first classified was Carol Hernández, followed by Lorena Hernández and Juani Martínez, also from the Ondara Athletics Club. The local club also obtained another podium, specifically the third place for Ana María Melenchón in the Veterans and Women's category.
Previously, the tests had been held in the prebarrufet, barrufet, prebenjamí, benjamín, alevín, infantil, cadet and juvenile categories, both for women and men. We must highlight the great participation of girls and boys from our town and the great victory of the ondarenc Roc Martí, of the Ondara Athletics Club, in the male cadet category.
José Ramiro, Mayor of Ondara, and Mar Chesa, Councilor for Sports of the Ondara Town Hall. Chesa assured that she was very happy with how the day had developed since "after 3 years we needed our town to live again a race like the one we have always known and it has been shown that people wanted athletics." He also wanted to thank the effort of the Ondara Athletics Club for its organization and all the collaborators and sponsors since "without them this race would not be possible."