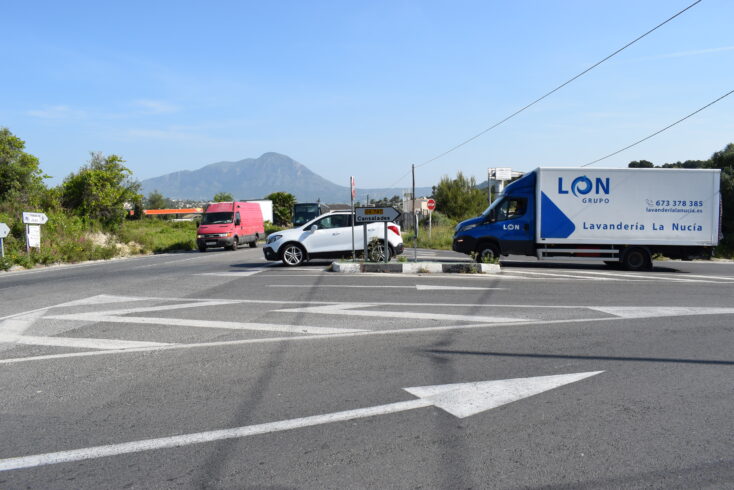 He Poble Nou de Benitatxell obtains one of the historical demands in terms of safety for its roads. Through the Special Access Improvement Plan promoted by the Compromís Group of the Deputation, the provincial entity will finance a roundabout at the intersection between the road to Xàbia and the Camí Cansalades, on the CV-740.
This week, the Valencian representative Gerard Fullana has visited, together with the mayor, Miguel Ángel García, this black spot in the municipality, where numerous accidents have occurred in recent years. A roundabout will be projected in it to help regulate traffic safely and put an end to accidents.
At the moment, after various meetings of the City Council with the road technicians, the Provincial Council has already reserved 8,000 euros this year for the drafting of the project, and the work is expected to be carried out in the second half of 2023.
"We all know perfectly well the intersection of Cansalades with the road to Xàbia. We know the number of accidents that, unfortunately, have occurred, and we know of the urgent need that it represents for our town to have the correct infrastructure so that it is no longer a black spot on our roads", pointed out the mayor, who has used to thank Fullana for his work so that this investment reaches El Poble Nou de Benitatxell.
For his part, the deputy explained this special plan, "which includes a proposal to improve accesses in towns that was very necessary, especially for municipalities such as Poble Nou, where there are accesses where accidents occur periodically."
The improvement of this access has been claimed in El Poble Nou de Benitatxell for many years. In fact, the Diputación had already planned a large-scale action to improve this section of the road, which runs from the Benitatxell road to the Camí Cabanes de Xàbia junction and is approximately 5 km long. However, thanks to the proposal of the current government team to separate this work from the roundabout of the large project, the action has fitted in this line of the Special Access Improvement Plan.