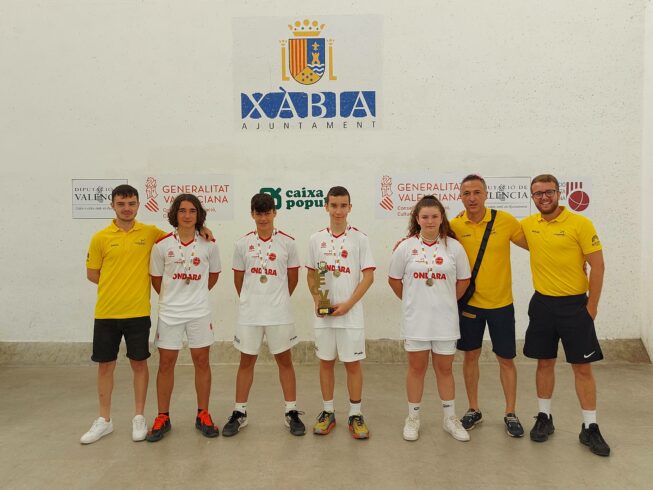 The Pilota d'Ondara Municipal School, coordinated by Juanma Garrido and trained by Arnau Oliver and Raúl Blasco, participated in the provincial finals of raspall of the XL Sports Games of the Valencian Community, organized by the Valencian Pilota Federation and held in the Trinquet de Xàbia.
The Pilota d'Ondara Municipal School he had managed to qualify five teams for the raspall provincial final phase (Benjamín A, Benjamin B, Alevín, Infantil, and Cadet). Benjamin A, made up of Marc Domènech, Unai Forqués, Martí Frasés and Arnau Boluda, was fighting for gold against Beniarbeig-El Verger. Benjamin B, made up of Vicent Molines, Andreu Frasés, Gerard Lorente, and Guiu Vizuete, competed for bronze against Pedreguer. The youngster, with Joan Garrido, Paco Salort and Alma Contrí, played the final for gold against Beniarbeig-El Verger. The infantile, with Uxue Arbona, Dani Serra, José Miguel Sastre and Arnau Mas, competed for the provincial gold against Benissa; like the cadet team, with Àlex Serra, Andreu Mullor, José Mengual and Mateu Guitart, who also played against Beniarbeig-El Verger for gold.
After very good games and a lot of effort, finally, only the children's team managed to win their game against Benissa (25-5), getting gold in the Raspall provincial championship and qualifying for the regional final phase. The youngest A, juvenile and cadet teams were provincial runners-up in raspall, and youngest B obtained a meritorious 4th place in the province.
The Councilor for Sports of Ondara, Mar Chesa, congratulated the Pilota d'Ondara Municipal School for his successes in this raspall provincial final. The school wanted to congratulate everyone for the illusion with which they have lived this provincial, emphasizing that it is difficult to be able to participate with this volume of teams.
PODIUM JECV ALICANTE RASPALL 2022
BENJAMIN
1st Beniarbeig-El Verger
2nd Wave A
3rd Pedreguer
4ª Ondara B
FRY
1st Beniarbeig-El Verger
2nd Ondara
3rd Orba
4th Petrer
CHILDISH
1st Ondara
2nd Benissa
3rd cat
4th August
CADET
1st Beniarbeig-El Verger B
2nd Ondara
3rd Beniarbeig-El Verger A
4th Valley of Laguar
YOUTH
1st Beniarbeig-El Verger A