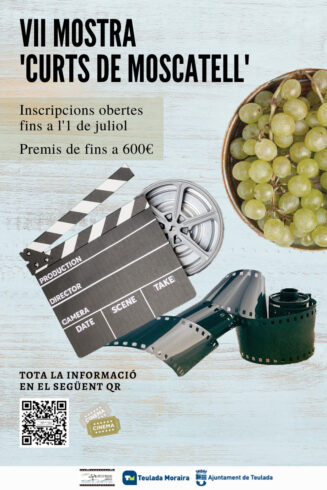 From the Cultural Association Friends of Teulada (ACAT), in collaboration with the Teulada Town Hall, the San Vicente Ferrer Cooperative and the Teulada Moraira Auditorium, the seventh edition of the Show 'Curts de Moscatell' from Teulada. As of this week, and until July 1, registration is open to participate.
The Mostra will be held during the month of August 2022 at the Teulada Moraira Auditorium. On the last day of the Mostra, before the projections, the 'Toni Canet' prize will be awarded, which recognizes the trajectory of groups and individuals in promoting film culture.
As in previous editions, the following categories are maintained: the one dedicated to short films on the culture of muscatel, with a prize of 600 euros; the free-themed one, with a prize of 300 euros; the recognition 'A step forward for equality' that rewards 250 euros for works related to the promotion of gender equality and the prize for the best short in Valencian which is valued at 250 euros. The public prize continues to be 150 euros.
According to this year's bases, audiovisual works that do not exceed 20 minutes in length, both Spanish and international production, may be eligible for the awards. These can be consulted at the following link: https://www.curtsdemoscatell.es/bases/
For more information you can visit the official page of 'Curts de Moscatell':  www.curtsdemoscatell.es