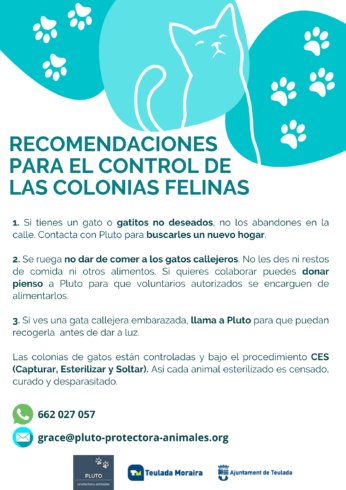 The Department of Animal Welfare, delegated to Sara Richardson, has launched a public awareness campaign to control feline colonies in Teulada Moraira.
It should be noted that the Teulada City Council has signed a collaboration agreement with the Animal Protection Association "Pluto" for the control of the existing feline colonies in the municipality. This association has the help of volunteers who are in charge of following the CES (Capture-Sterilize-Release) procedure, an ethical and respectful method that has proven to be more effective in controlling the population growth of stray cats. With this technique, the sizes of the colonies are stabilized, which implies a gradual decrease in the population over a certain period of time.
Among the advantages that this service presents to the citizen, the reduction of the uncontrolled proliferation of colonies of cats, the reduction of meowing, marking or fights typical of non-sterilized stray cats stands out. All this is achieved while preserving the quality of life of the cats themselves, since each sterilized animal is registered, cured and dewormed.
Some of the recommendations for citizen collaboration in this regard are the following:
If you have an unwanted cat or kittens, don't abandon them on the street. Contact the Pluto Animal Protector to find them a new home. Contact telephone number: +34 662 027 057. Email: grace@pluto-protectora-animales.org
Please do not feed stray cats. Do not give them food scraps or other food. If you want to collaborate, you can donate feed to the protector so that authorized volunteers can take care of feeding them.
If you see a pregnant stray cat, call the protector so they can pick her up before she gives birth.
The action protocols based on Capture-Sterilization-Release (CES) are a safer method to guarantee the control of feline colonies while guaranteeing animal welfare, being the only effective means to end feline overpopulation.