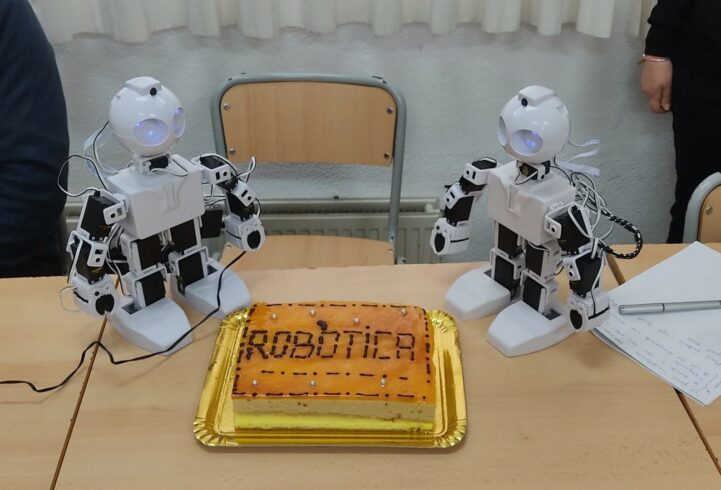 The student body of Holy Christ CEIP of Cat will turn robots into actors within Schedule your work, an educational project that unites art, technology and society and that will culminate on June 14 at the Miguel Hernandez University.
Primary school students are learning to program a humanoid robot that will be the protagonist, together with the students, of the short film that they themselves are making and directing and with which they intend to promote healthy eating, exercise and care.
The project is an idea of the Kaleidoscope, Start up of the Miguel Hernández University of Elche, and is financially supported by the Department of Education of the Town Hall of Gata de Gorgos. It is therefore a program with double value. Not only does it teach students to program and work with high technology, such as a robot in this case, but it also tries to ensure that, through this technology, they acquire a greater awareness of the environment in which they live, since the short has to have a social or environmental purpose. In addition, the participating students have had to write the script, carry out the storyboarding, direct and shoot the short film in which the robot will be one more protagonist.
Schedule your work It began in January with the training of teachers and tutors of sixth and fourth grade in how to carry out the programming of the robots, as well as the development of the scripts, costumes and scenery. Once the teachers have been trained, they have been the ones in charge of teaching the students the development of scripts in the language class, in plastic arts and drawing the sets and costumes, and in technology and computer science the programming of the robots.
In addition, the proposal intends to go further and become a project that creates synergies between students. The Kaleidoscope will organize an exhibition on June 14 in the Science Park of the Miguel Hernández University in Elche, where the Gata school and the rest of the primary and secondary educational centers in the province of Alicante will exhibit their projects.