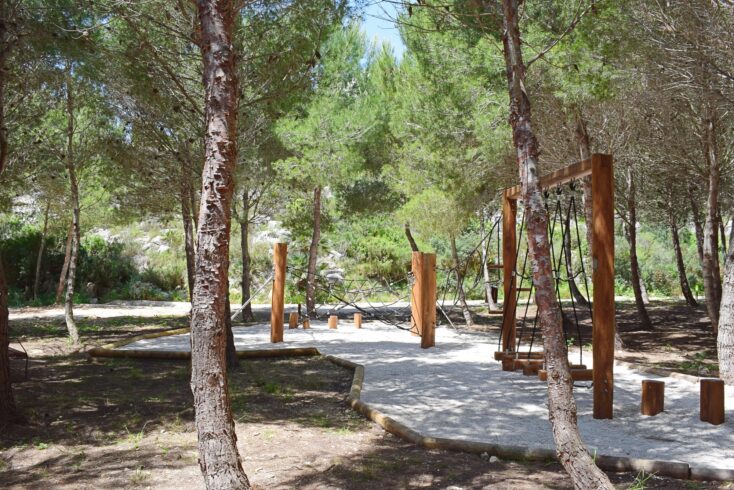 The Department of Environment, Water and Energy of the Provincial Council of Alicante has recently developed in El Poble Nou de Benitatxell its conservation and maintenance service for municipally owned green areas for town halls with up to 5,000 inhabitants.
Last year, the City Council received a grant of the provincial entity for the value of 24,390.20 euros for the rehabilitation of the Garsivà park, located in the Kalmias area, in the Cumbre del Sol urbanization. This recreational area, with a surface area of 35,098 m2, suffered significant damage during the Gloria storm in January of 2020.
The work has included the cleaning and clearing of vegetation, the repair of gullies and gravel dragging, the repositioning of the existing prefabricated stopes, the raising of the speed bump to prevent the entry of runoff water and the repair of the safety floor of the games and the wooden stairs.
In addition, the vegetation has also been treated with the pruning of the pine trees and the selective clearing of the lower terraces, eliminating the pyrophytic and invasive vegetation. The area of operation is estimated at 4,200 m2.
With the adaptation and maintenance of this green area, it is possible to recover a playground with picnic tables in the open air for the use and enjoyment of the population, as well as the users of the route. Puig de la Llorenca – cove llebeig, who use it as a recreation and rest point. This space for games and rest is ideal for the summer season given its location under a dense pine forest that provides shade and pleasant temperatures.
Although this park has been the central axis of the intervention, other green areas such as the Pueblo Alcassar hermitage have also been cleaned and cleared.