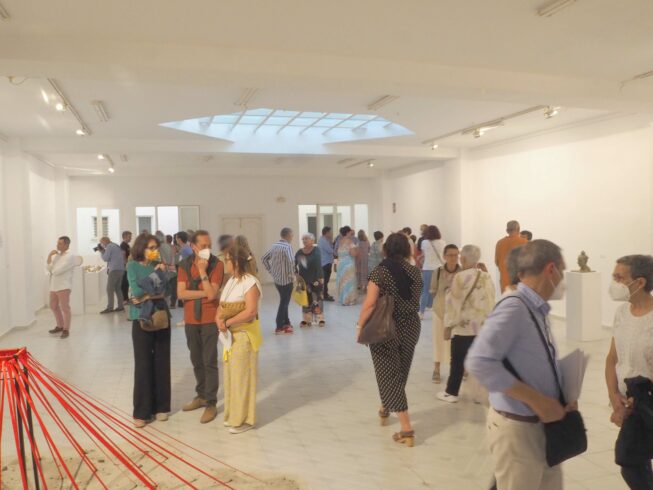 On May 27, it was inaugurated at the Gata Music House the sample Three-dimensionality to Gata, a exposure whose backbone is three-dimensionality, understood in a non-dogmatic, open way and with a wide variety of materials and concepts.
The exhibition on three-dimensionality is already a classic within the thick annual program of the Contemporary Art School. This center organizes exhibitions by its students, lectures are given, documentary or film projections, visits to exhibitions, etc.
The exhibition includes works by the following authors: Juan Escolano, Jaume Pastor, Guido Bompadre, MªJosé Cholbi, Pedro Faus, Conchi García, Mari Marí, Manuela Paszkowsky, Mar Fornes, Mariví Puigcerver and Pep Aguilar. The authors have used a whole wad of different materials such as earth, plastic, textile materials, sewing thread, cardboard, book pages, photography, a robe, polyester paper, ashes, volcanic rocks, etc.
The exhibition, for which exceptionally the Gata Town Hall has published a catalogue, it can be visited until June 12 from Wednesday to Sunday from 7:00 p.m. to 9:00 p.m.
The School of Experimental Plastics inaugurates a new classroom
The same afternoon of May 27, a large group walked the few meters that separate the Casal from the plastic school to visit the ground floor, the two floors and the roof that from now on will be used for students to experiment with contemporary art and to be able to express themselves. The new classrooms were crowded with people from Gata and from all over the Marinas and La Safor.
The event was attended by the Councilor for Culture, Àngels Soler, the councilor Toni Arabí, the mayor, Josep Signes, and the school teacher, Ginestar.