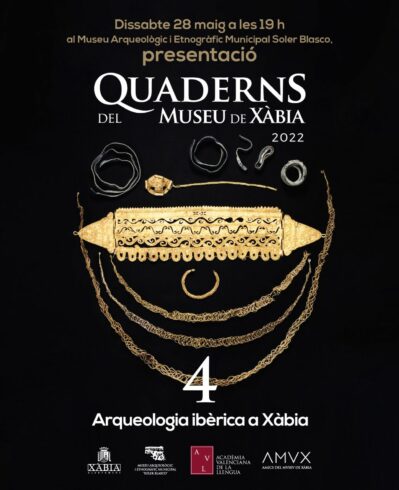 He Soler Blasco Archaeological and Ethnographic Museum de Xàbia presents next Saturday, May 28, the fourth number of its informative publication Quaderns del Museu.
On this occasion, the work is dedicated to the Iberian era. To the findings linked to this period discovered in Xàbia –some of them exceptional like the Tresor de Lluca- and to the signs of settlement.
The research was carried out by Mireia López-Beltrán (doctor in history and professor of ancient history at the University of Valencia) and Jaime Vives Ferrández-Sánchez (doctor and director of the Museum of Prehistory of Valencia). The reader will be able to find an overview of the Iberian world, its development and its gradual disappearance with the Roman conquest and the Romanization process that the area experienced. Also discover the wealth of the Tresor de Lluca with unpublished material such as a microscopic photograph that allows you to discover in detail the goldsmith techniques of the time.
There is also a chapter dedicated to the town of Plana Justa, the only indication of Iberian settlement, and another to the rituals of this period associated both locally and regionally.
The presentation of this room Museum Quadern In charge of the authors and the municipal archaeologist, Ximo Bolufer, and the Councilor for Culture, Quico Moragues, it will be on Saturday at 7:00 p.m. in the Museum room and it will also be possible to see the Iberian Lead recovered by the Cirne Foundation.