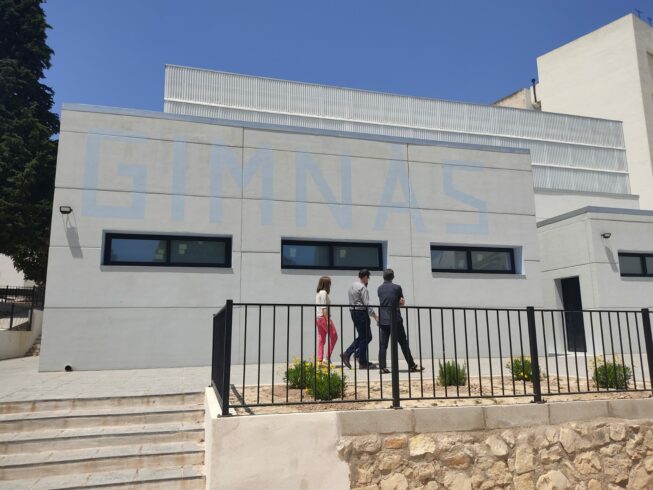 The CEO of Educational infrastructures, Victor García, has visited this morning and has officially received, together with the mayor of Cat, Josep Signes, the Corporation and the management of the center, the new gym of the CEIP Santíssim Crist.
The construction of the gym was included within the Pla Edificant of the Ministry of Education for the improvement of educational infrastructures that, together with the structural repairs of pavilions B and C, has meant an investment of 764,970 euros in the center.
The general director has thanked the collaboration of the consistory in improving the educational centers of the municipality and has announced that the department of the counselor Raquel Tamarit "is preparing an investment of more than 6 million euros in Gata in two new actions through the Edificant to rehabilitate the CEIP Santíssim Crist and expand the IES Matemàtic Vicent Caselles".
"In total we are talking about an investment in Gata of about 7 million euros through the Pla Edificant. It will allow, not only to improve and modernize the educational centers of the municipality, but also to generate 175 jobs in the construction sector", highlighted Victor García.
For his part, the mayor of Gata, Josep Signes, has expressed his satisfaction at seeing that an infrastructure so requested by the educational community is already in operation, as well as for the task that has begun to process the two new projects.
Regarding the project to expand the Institute, the Ministry has agreed to include the incorporation of 4 high school classrooms and 2 secondary classrooms, the modification of the heating installation, location of the facilities to teach basic Vocational Training in Hairdressing and Aesthetics, and new adequate spaces to incorporate the medium and a multipurpose room. Likewise, the possibility of incorporating new branches of Vocational training in the middle. The entire project has a budget of 3,325,711 euros.