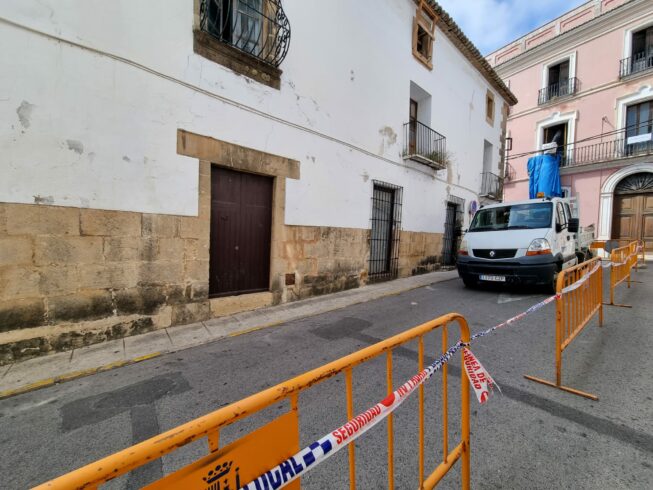 He Town Hall of Xàbia begins to do emergency works in the municipal building known as Xolbi House. As a result of the inspections that are being carried out to draw up a comprehensive sanitation project for this gothic mansion (its structure is precarious), a small structural movement has been detected on the ground floor. Probably, this displacement can be attributed to the persistent rains that have been maintained this spring.
Thus, the perimeter of the building, located between Roques, Loreto and Escola streets, has been preventively sealed, leaving it closed to traffic until the end of the emergency intervention recommended by the technicians. The action will be the construction of a wall inside one of the windows to consolidate the façade and stop new movements. The works are being carried out by municipal personnel and are expected to be completed in a few days.
The Casa dels Xolbi, owned by the municipal government, is pending rehabilitation in such a way that its structural safety is guaranteed. The City Council presented this project, which a priori is estimated to cost around one million euros, to a line of subsidies from the Ministry of Housing and Bioclimatic Architecture aimed at urban actions, especially rehabilitation of municipal heritage buildings, both of a social nature , cultural and/or historical.
Currently, the draft of this construction site and it is during one of the visits to the property carried out by the responsible architecture studio when the structural movement has been detected.
This Gothic mansion was acquired by the City Council in 2005. Originally from the 18th century, it is a large house with 34 rooms of various sizes and functions, spread over four floors, and it is one of the oldest and most interesting buildings preserved in the town.