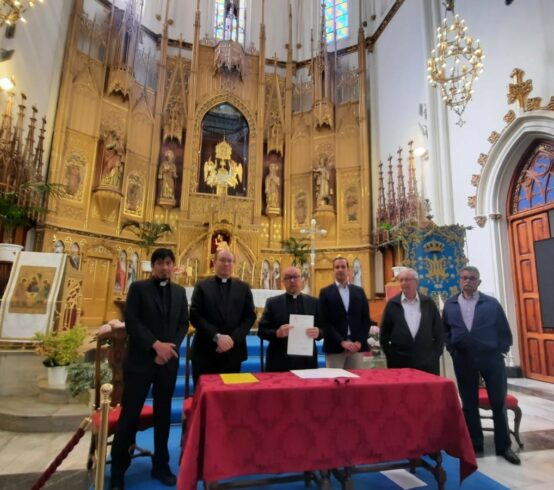 Last May 13 we knew the good news, the Vatican Holy See had approved the appointment as Basilica Papal, Minor Basilica, of the church of the Puríssima Xiqueta de Benissa. And now, we can add that there is already a date for the celebration of this important declaration for the town, for those who process the Christian faith and for those who value its architectural heritage. The event will be this Sunday. June 26th, at 7:30 p.m. A call that will be chaired by the Cardinal Archbishop of Valencia Antonio Cañizares.
The parish is finalizing the details of a solemn Eucharist, which will become part of the history of Benissa. A date, June 26, which will be included in the festive calendar of what is known as the Cathedral of the Navy.
This is a recognition that is the result of a laborious process that began in 2018. As the parish priest, Salvador Enrique Cebolla, already said in his day, this is a recognition of history and all the people who made an effort to provide Benissa with a temple of these characteristics. The solemn proclamation is a great party for the population according to Cebolla himself.
Minor Basilica, is a category that only reaches some 1,500 churches in the world, below the major basilicas, which only exist four, and which are in Rome: that of San Pedro, that of San Juan de Letrán, that of Saint Paul Outside the Walls and that of Santa María la Mayor.
In Spain we have 125 basilicas and in the Valencian Community there are 12, a list to which is added the Benissero temple dedicated to the Puríssima Xiqueta. Having been recognized as a basilica will entail for this temple to comply with a series of obligations, such as having to celebrate certain festivals linked to Rome with special solemnity. In addition to being a special center for Christian formation and placing the shield that identifies it as a basilica on the main façade.
The History of the Temple
The Iglesia de la Puríssima Xiqueta, now a basilica, was built between 1902 and 1929 with the efforts of many citizens of Benissa who made it possible thanks to their donations. It is a neo-Gothic building with three naves where the beauty of its central dome stands out – a skylight inside the church, in the center of the transept – and its altar, of which the reliquary containing a tablet painted with the image of the Puríssima Xiqueta, attributed to the school of painter Juan de Juanes.
This appointment is a recognition of the religious, architectural and cultural heritage of Benissa, and reinforces the devotion to the Immaculate Xiqueta that all Benisseros have.
From the parish, the parish priest, Salvador Enrique Cebolla, extends an invitation to all Benisseros to participate in this historic date for the town.