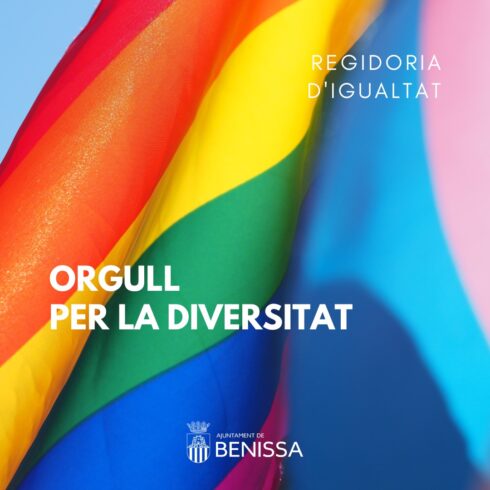 The council of Equality of the City Hall of Benissa presented the program of events to commemorate the International LGTBIQ+ Pride Day. Various cultural and protest activities planned to commemorate this date, framed on the calendar on June 28 and aimed at residents of all ages.
According to the responsible councilor, Lorena Ivars, the objective is to increase the visibility of the group and continue promoting the educational work from the institutions in favor of tolerance, freedom and equality.
Among the activities planned, the development of a participatory mural stands out, which will be enabled for all those who wish to post their messages in the Joaquín Piera and Mariana Torres roundabout, starting on Tuesday, June 28 and until Sunday, July 3. In addition, on the 28th, between seven in the afternoon and nine at night, boys and girls from 3 to 12 years old will be able to participate in a T-shirt and badge workshop that will take place in this same space. Also planned for Saturday, July 2, in the Plaza de l'Església Vella, is the monologue 'Pride of loving' by Gemma Almagro.
The Councilor for Equality points out that celebrating this date is very important to give visibility to this group and defend the diversity of our society. Ivars comments that there is still a lot to be done in this matter, which is why throughout the year awareness and pedagogy actions are carried out, which now, coinciding with June 28, are intensified. The head of Equality invites citizens to participate in the scheduled events.