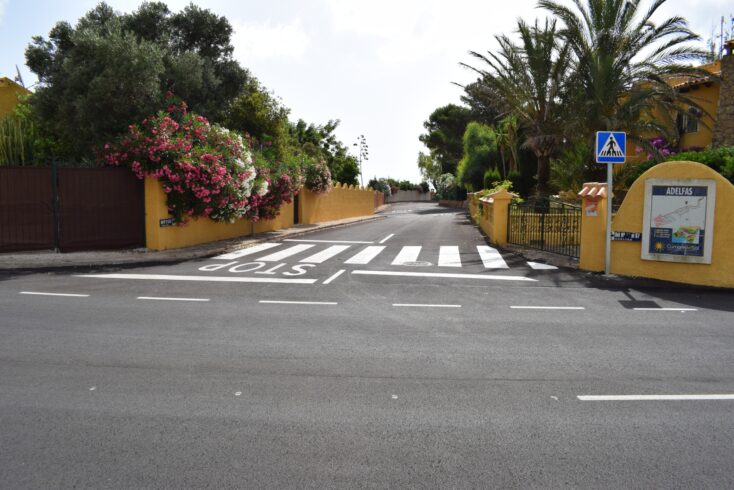 Last week they concluded benitatxell the resurfacing work that has repaired some of the roads in the urbanizations Sun Summit, Vista Montaña III, Pueblo Alcassar phase 2, Golden Valley and the Barranc Roig-La Torra road. The mayor, Miguel Ángel García, and the Councilor for Urban Planning, Jorge Pascual, signed the receipt of the construction site, executed by the Pavasal company.
With a total investment of 530,000 euros charged to the municipal budget, work has been carried out on more than 43,000 square meters of roads. The works have included not only the adaptation and repair of the pavement, but also the horizontal and vertical signaling and the repainting of some areas to improve road safety in areas with a lot of car and truck traffic.
Most of the work has focused on the Cumbre del Sol roads, with 90% of the total plan. Mainly, the areas of action have been Begonias, Holm oaks, Oleanders, Camellias, Dalias, Girasoles and some sections of main roads. No action had been taken on most of these roads since the construction of the development, more than 30 years ago.
Other areas have also been intervened with the installation of protection barriers on the ascent from the Camelias area towards Pueblo Panorama and at a point on the Barranc Roig path. In addition, the winning company has assumed as an improvement the asphalting of an extra 13,500 square meters, valued at 131,815 euros.
"With this intervention, a large part of a problem inherited during many legislatures has been solved," stated the mayor, who stressed that, until now, most of the complaints received by the City Council, after deficiencies in public lighting (40%), were for asphalt (13%). "Now, after this action and also with the improvements in terms of lighting, the change in the type of complaints is being noticed, as well as considerably shortening the time for action."