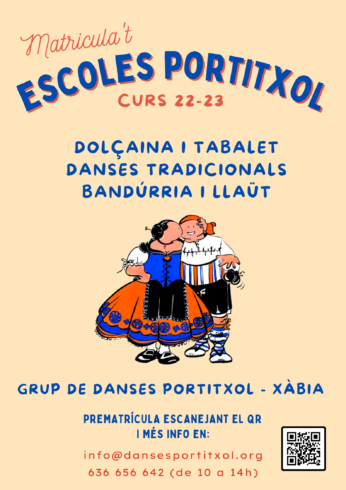 He Portitxol Dance Group works with the clear idea of maintaining the traditional music and dances that have always been danced in Xàbia and The marine. The main objective is to promote and promote the customs and traditions transmitted by our ancestors, as well as recovering the dances and songs of the region itself and also other Valencian regions.
This Xàbia association, one of the oldest in the town, has more than 50 years of history and two CDs released in recent years, in collaboration with the Valencian generalitat. The first of these was "Cançons de la Marina", a compilation of the traditional music of the region, and the second "El Dolçainer del Portitxol", a story-disco about the mythical origin of the Sant Joan festivities set in the pandemic. of the Spanish flu of 1918 recorded by the Colla Portitxol de dolçaines i percussió. The latter has had the participation of prominent figures in Valencian music. Josep Nadal as narrator, Pep Gimeno Botifarra and Sandra Monfort as protagonists and they are accompanied by Xavi Sarrià, Feliu Ventura, Jonatan Penalba, Xiomara Abello, Flora Sempere (El Diluvi), Ivan Gosp and Kiko Tur, (Aspencat), among others.
The 22-23 course of the Escoles Portitxol begins in October and will end in May 2023, but pre-registration is now open. The minimum age for the modalities of Tabalet (traditional percussion) and Danses will be for those born in 2017 (included), and for the other instruments it will be for those born in 2012 (included). Classes will be held Monday and Tuesday for dolçaina and string instruments, traditional dances on Wednesday and tabalet on Thursday.
Pre-registration can be done through the following link:
https://docs.google.com/forms/d/e/1FAIpQLSfHoRtRTNQMh6zQH3dloIxO-_zJTy9nqr8PvXQMLkpIrXN16Q/viewform?usp=sf_link
For more information or any questions you can contact by phone 636 656 642 (from 10 a.m. to 2 p.m.) or by sending an email to info@dansesportitxol.org.