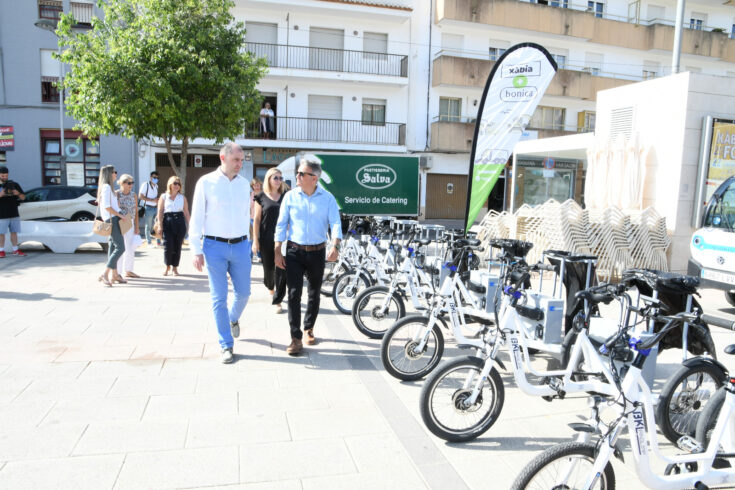 He Town Hall of Xàbia and the new concessionary company of the street cleaning and management of Solid waste They have presented all the new features of the service in a public act that has also involved the school community.
The mayor, José Chulvi, has stressed that it is the most important service in the municipality, both because of its cost (approximately six million euros per year) and because it is "universal, since it is used and supervised by all residents and visitors" and for its obvious impact on public image and the environment.
From the company they have detailed the means that the service incorporates: more than 50 vehicles (mostly electric), tractors and boats for beaches and coves, quieter and more ecological machinery for street cleaning in urban centers and urbanizations; new containers with a chip (to monitor, which helps to detect whether or not it has been emptied, as well as the incorporation of the 5th container, which will start after the summer. And a workforce that in times of high occupancy will exceed 100 workers.
The Councilor for Services, Kika Mata, has listed all the improvements provided by this new contract, which she has described as "at the level of what Xàbia deserves". Mata has advanced that the ecopark extends hours and the green points will be improved with surveillance cameras and access control.
Both the councilor and the mayor have also influenced progress in terms of energy efficiency and the strong commitment to raising public awareness, with a specific team of environmental educators who will carry out sustainability and recycling courses.
And it is that municipal officials have stressed the importance of citizen involvement. "The City Council has done everything on our part to overcome historical deficiencies and we expect a lot from this change," said the mayor.
But for this, it is essential that the population respond. "Someone who is dirty spoils what 50 conscientious neighbors have achieved." There are behaviors, such as emptying all the garbage out of the containers, leaving waste on the streets that has to go to the eco-park or dumping in natural areas that are no longer economically or morally acceptable, "he has listed. That is why it has appealed to everyone's awareness in order to ensure that the motto of the new stage in Services is fulfilled: Xàbia, més bonica.
After the official presentation of the service, the square has been filled with schoolchildren who have been able to get on some of the machines and have participated in the various workshops organized by the new concessionaire: circuits with go-karts, percussion with recycled materials, broom races, games of recycling or storytelling.