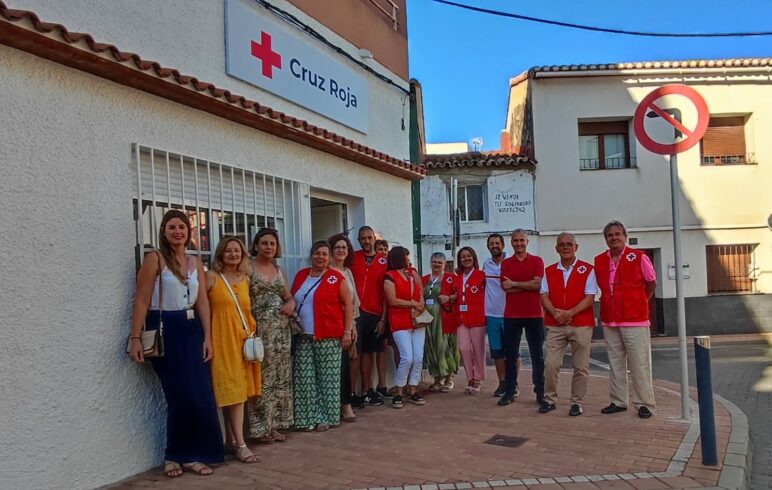 Last Saturday, June 11, the new headquarters of Red Cross in Ondara, which allows the NGO have a fixed point and permanently in the town. He Ondara Town Hall For this purpose, it has ceded the old hat shop, which has been renovated and equipped with the necessary equipment so that the Red Cross can carry out its assistance projects in the municipality.
On the occasion of the formal inauguration of the headquarters, an open day was offered so that citizens could see first-hand this new assistance endowment that Ondara has, thanks to the collaboration agreement signed between the consistory and the Red Cross.
The Mayor of Ondara, José Ramiro; the Councilor for Social Services, Mª Carmen Velázquez; and other members of the municipal corporation. On behalf of the Red Cross, the Provincial Secretary, Javier García Ruiz, and the Provincial Coordinator, Carolina Espadas attended; as well as volunteers and local technicians. Also Eduardo de la Morena, local President of the Red Cross, who thanked the Ondara Government Team for the efforts made in recent years to be able to have this location.
From the Red Cross they have wanted to thank the authorities, technicians and volunteers for the work done to open this fixed point in Ondara. It is the first time that the NGO has its own headquarters in the town (until now it carried out its welfare projects in the Casa de Cultura or in the Social Center). The premises that the City Council has ceded is a 45 m² ground floor on Avenida Alicante no.
The conference showed the facilities and resources of the new Local Response Point in Ondara, from which the Red Cross will develop different projects aimed at improving the quality of life of the people in extreme vulnerability, with the collaboration of local volunteers.
The Mayor, José Ramiro, thanked the Red Cross for the boost that is going to be given at the level of assistance in the municipality of Ondara and recognized the great work carried out by this NGO to help the most vulnerable people.