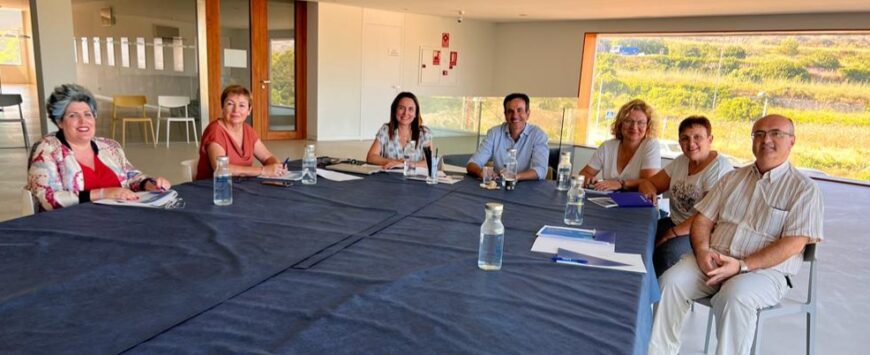 The company that manages the drinking water service in the municipalities of Teulada Moraira and El Poble Nou de Benitatxell has held a new working group of the Social pact to establish a water management model that supports all people, especially the most vulnerable, and that contributes to the ecological transition. An initiative supported by the town councils and in which the social and business fabric of these towns actively participates.
In the first work table, which took place in May, presented the objective of this initiative and discussed some actions that are currently being worked on, linked to the social contribution of Hydraqua in both municipalities.
The second round table, which was held this week, focuses on the need to work on new lines of communication that allow the company to reach all of its customers, without exception. "Teulada Moraira and Benitatxell have two groups such as foreigners and the elderly that represent a high percentage of the total population of these municipalities, hence it is essential to focus on these groups and the care offered to them" , has been underlined during the table.
The company that manages the integral water cycle has highlighted that Hidraqua has the CONTIGO Program, an initiative focused on guaranteeing that all customers, without exception, can access the company's services and, above all, ensure good service to people in a situation of vulnerability, with the aim of identifying digital, comprehension, accessibility or economic barriers. "Our business strategy is always focused on continuous improvement, which is why these work groups help us to continue advancing in the implementation of new measures to improve our operations, commitment to society and closeness to the community in which we provide service. ".
At this new meeting, which has been held again in the Auditorium Teulada Moraira Susane Ruth Katzgrau, councilor for the 2030 Agenda of the Teulada City Council; Isabel Garrido, Councilor for the Urban Center and Rural Area, Social Services, Health and Functional Diversity, and the Elderly of the City Council of El Poble Nou de Benitatxell. In addition, representatives of other entities from these municipalities such as the Red Cross, Cáritas and the Teulada/Moraira Auditorium. The initiative is coordinated by Ciriaco Clemente, Hidraqua's manager in the area, and Amelia Navarro, Hidraqua's director of Sustainable Development and Equity.
For her part, the councilor for the 2030 Agenda of the Teulada City Council, Susanne Katzgrau, has emphasized "the importance of always improving our services, paying special attention to the sectors that need it most and projecting development policies for our future generations ".
The ultimate goal of these work groups is to gather initiatives aligned with the UN Sustainable Development Goals, marked within the 2030 agenda and design an action plan, focused on local proposals, to contribute through water management to the design of actions that favor the sustainability and well-being of the citizens and the municipalities of Teulada Moraira and Benitatxell.