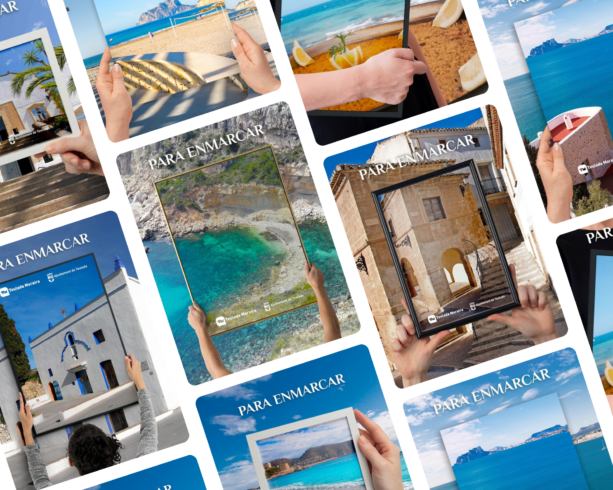 From the council of Tourism of the Teulada Town Hall, delegated to Alejandro Llobell, presents the new image of tourism promotion To frame. The objective of this new image is to convey to visitors that their holiday memories in Teulada Moraira They will remain engraved in the memory, with everything that characterizes the municipality and that can be taken as a memory "to frame".
In this way, with various images that represent the gastronomy, culture, architecture or landscaping local, the municipality is promoted through informative means such as posters, the media, official channels or following brand positioning strategies.
Following this last line of action, Tourism has contracted the brand positioning service through Google. A national and international campaign that includes -from 80km around the municipality- online advertising of Teulada Moraira.
In this action, the user will find the tourist website with the new image To frame, an effect called on new visitors when they perform Google searches related to key concepts such as "family vacations", "beach", "hiking", "gastronomy", "holiday home", "tranquility", etc.
It should be noted that these actions are inserted within the framework of the annual tourism promotion strategy, aimed at extending the holiday period and seasonal adjustment of local tourism.
For his part, the Councilor for Tourism, Alejandro Llobell, pointed out that "given the good results since the start of the 2022 tourist season, positive results are expected for the coming months. For this reason we carry out continuous actions, which are monitored and which are aimed at the largest number of users possible".