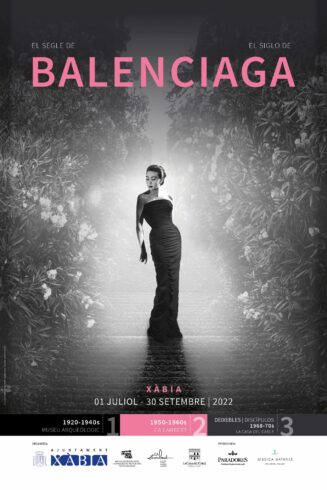 This weekend starts activities dedicated to Christopher Balenciaga with 'Balenciaga's century'. The Town Hall of Xàbia spend this summer an important cultural programming to the most international master of haute couture, who passed away 50 years ago while spending one of his usual stays off in the municipality.
On Friday, July 1 at 8:00 p.m., in Plaça de l'Església, the opening ceremony of this exhibition cycle will take place, which will be attended by the curators of the exhibitions, the participants in the symposium that will be held on Saturday and local authorities.
With this act will begin the monographic exhibition that will cover its origins, years of splendor and the legacy it left in fashion, which is still alive and valid today. The exhibition, curated by Pedro Usabiaga, will be available from July 1 to September 30, in the exhibition halls of the Soler Blasco Museum, the Lambert Arts Center and the Casa del Cable. There will be cocktail dresses, afternoon and evening pieces, as well as two bridal gowns, coats, hats and accessories. Most of them on loan from private collections, little known and not usually seen in museums.
Regarding the symposium «Cristóbal Balenciaga, work and legacy 1972-2022» (00-Balenciaga-Javea-SYMPOSIUM-poster-A3), which will be held on Saturday, July 2 at the Parador Nacional, different voices linked to the world of fashion will address the figure of Balenciaga. From Pedro Usabiaga to Amalia Descalzo, Mariu Emilias, Javier Martín and Ramón Tabares Ozcariz, Lola Gavarrón or the well-known designer Lorenzo Caprile.
The day includes a round table and debate moderated by Lydia García in which Pedro Usabiaga, Mariu Emilas, Ramón Tabares Ozcariz, Elena Iribarren and Miguel Cardona (who was Balenciaga's driver during his stays in Xàbia) will participate.
All the events in the cycle will be without prior reservation and free of charge, and the complete program can be consulted in the brochures already available both in the Casa de Cultura and in the tourist offices and in the rooms where the exhibition will be held.
Other appointments in the program are the projection on July 14 at the Jayan cinema of the film "The invisible thread", a conference on the designer in Jessica Bataille's studio (August 5) or the concert "The sound of its two shores" with music from the Basque coast and the Mediterranean performed by the soprano Teresa Albero and the pianist Jesús Gómez.
Program of the century of Balenciaga: Balenciaga-Javea-triptych-program