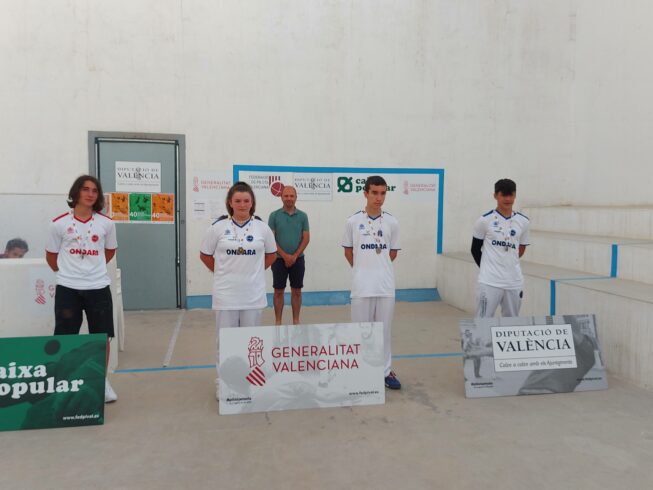 The Pilota Municipal School of Ondara, coordinated by Juanma Garrido and trained by Arnau Oliver and Raúl Blasco, participated on June 12 in the regional finals of Scale i Chord of the XL Sports Games of the Valencian Community, organized by the Valencian Pilota Federation, and held in Moixent (València).
The Escola Municipal de Pilota de Ondara had managed to classify two teams, the fry and the childish, for the regional final phase, having managed to be provincial champions of Escala i Corda. In the regional final, the provincial champions of Alicante played a league between four, competing against the provincial champions of Valencia and Castelló, and the runner-up of València, in each category. The Ondara juvenile team, with Joan Garrido, Paco Salort and Pau Mahiques, achieved third place and regional bronze after playing against Massamagell (1st), Meliana (2nd) and Onda (4th).
The children's team, with Uxue Arbona, José Miguel Sastre and Arnau Mas (Dani Serra out due to injury), managed to win all three games, which they played against Meliana A (2nd), Vilareal (3rd) and Meliana B ( 4th), and rose as the new regional champion in children's Escala i Corda. The circumstance occurs that the Children's team of the Escola Municipal de Pilota de Ondara has achieved this season the regional gold in all the modalities disputed to date: escala i corda, raspall, galotxa, one wall couples, frontó couples and pilota grossa .
The Councilor for Sports of Ondara, Mar Chesa, has congratulated the Escola Municipal de Pilota de Ondara for their successes in this regional final.