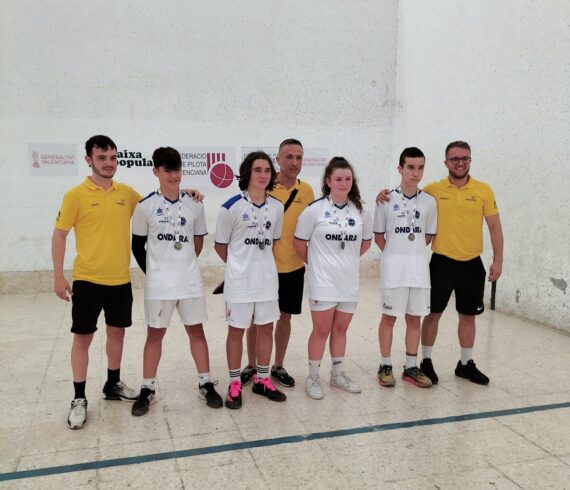 The Pilota d'Ondara Municipal School , coordinated by Juanma Garrido and trained by Arnau Oliver and Raúl Blasco, participated this past Sunday June 5 in the regional finals of raspall of the XL Sports Games of the Valencian Community, organized by the Valencian Pilot Federation and held at the Trinquet de Benigànim (València).
The Municipal School had managed to qualify for the final A in the children's team, by winning the provincial phase and being the provincial champion of Alicante. In Benigànim, the Ondara children's team, made up of Arnau Mas, José Miguel Sastre, Dani Serra and Uxue Arbona, managed to win the final for regional gold against the Alcàntera-Càrcer team. In a very close final, Ondara's team finally rose as the regional champion of its category in the raspall modality, winning 25-15 against the team that had been the provincial champion of Valencia.
The Ondara Municipal Ball School had also managed to classify three teams for the final B, for the third regional place, having been provincial runners-up. Ondara's juvenile and cadet teams were in a creditable 4th regional place. The youngster, with Joan Garrido, Paco Salort and Alma Contrí, played the final for bronze against La Llosa de Ranes. The cadet team, with Àlex Serra, Andreu Mullor, and Mateu Guitart, played against Alcàntera-Càrcer, also bronze. Benjamin A, made up of Marc Domènech, Unai Forqués, Martí Frasés and Arnau Boluda, will play the regional final for 3rd place this Thursday, June 9.
The Ondara Sports Councilor, Mar Chesa, has congratulated the members of the Escola Municipal de Pilota d'Ondara for their regional successes.
HONOR ROLL
FRY
1st The Genovese
2nd Beniarbeig-El Verger
3rd La Llosa de Ranes
4th Ondara
CHILDISH
1st Ondara
2nd Alcàntera-Càrcer
3rd Quatreround
4th Benissa
CADET
1st The Genovese
2nd Beniarbeig-El Verger
3ª Alcàntera-Càrcer
4th Ondara
YOUTH
1st Beniarbeig-El Verger A
2nd Alcàntera-Càrcer
3rd Beniarbeig-El Verger B
4th Quatreround