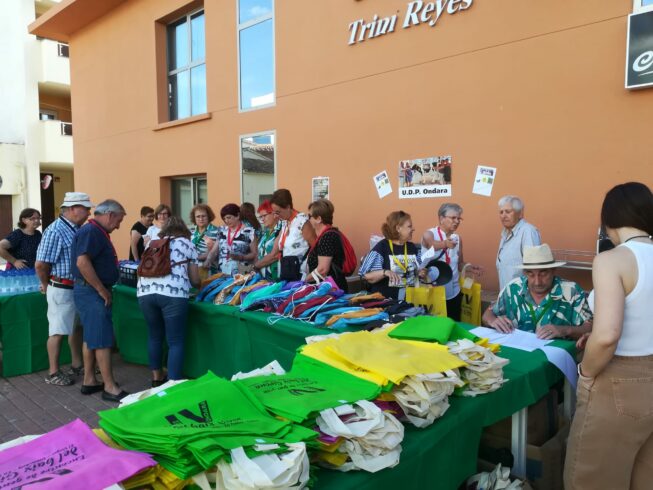 He IV Meeting of the Elderly of Baix Girona 2022 it was celebrated in Ondara the past Saturday June 4th. A brotherhood initiative in which 350 people participated, promoted by Beniarbeig, Els Poblets, Ondara, and El Verger to offer the elderly of these four towns the opportunity to meet, rediscover old social, family and friendship ties.
The objective of the meeting was to carry out a brotherhood event; a party of coexistence through associationism in a playful and festive way. The IV Meeting of the Elderly of Baix Girona was organized by the Department of the Elderly of the Ondara City Council directed by Mª Carmen Velázquez. Velázquez has valued the day as a day full of emotions, joy, party, music, and reunions, and has taken the opportunity to thank "especially the UJPO and to the Ondara Senior Technicians for their great work, and to all the people who participated, because they made the day unforgettable. He has also thanked the Red Cross for their help and collaboration.
The program began with a reception at the Trini Reyes Social Center. A welcome gift was given to each participant at the reception. The UJPO hosted this meeting and helped in the organization. After the reception, a tourist visit was carried out, guided by volunteers from the UdP, to the most emblematic places of heritage in the urban area of Ondara; They visited the Church, the Convent, the Town Hall, the Laundry, the Clock Tower and the Bullring. Next, there was an exhibition of "zumba gold" by the students of the Sports and Health course for the elderly, taught by the Ondara City Council, in the Plazoleta de las Escuelas, which was also witnessed by the elderly of the Residence. Later, the participants enjoyed the show-monologue by José Soldevila, on the stage of General Bosch street.
Then the brotherhood meal was offered inside the Prado with vervain. Finally, the older ones who wanted to, attended the concert of the X Festival of Music Bands that was held in the bullring organized by the Ondara Musical Union and the Ondara Department of Culture.