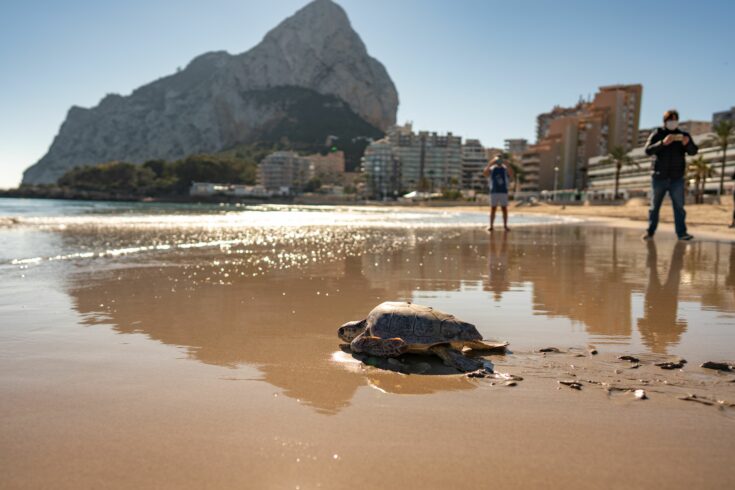 Five municipalities of the Marina Alta, Dénia, Xàbia, Calp, Teulada and El Poble Nou de Benitatxell participate in the campaignTurtles in the Mediterranean 2022' of the Fundació Oceanogràfic. This third edition will be present in a total of 60 coastal municipalities of the Valencian Community, Region of Murcia and the Balearic Islands, in addition the awareness and information campaign will be disseminated in the Valencia Metro, Alicante Tram and Beach Tourism Paradores. An awareness campaign that has been presented at the Baleària Maritime Station, in Dénia.
As in previous years, this initiative has the collaboration of the Ministry of Agriculture, the Environment, Canvi Climàtic i Desenvolupament Rural, FGV, 112 Emergencias, Ciutat de les Arts i les Ciències, Universitat de València, Global Omnium and Fundación Azul Marino.
The awareness campaign, which promotes the Oceanographic Foundation consists of the placement of more than 1,500 posters on "mupis" and other supports, from which bathers and travelers are informed in the points of greatest concurrence and visibility of the presence of sea turtles on the coasts of the Mediterranean and that, in the event In the event of a sighting, it is necessary to call 112 in order to activate the Stranding Network, made up of the University of Valencia, the Ministry of Agriculture and Ecological Transition and the Oceanogràfic Foundation itself. José Luis Crespo, who is responsible for the Oceanogràfic's conservation area, explains it.
Nesting season
In the case of the Valencian Community, the Fundación Oceanogràfic rescue team is in charge of traveling to the area to assess the state of the animal and transfer it, if necessary, to ARCA del Mar, where it recovers until it can return. back to the sea.
As Kadia García, director of the Oceanogràfic Foundation, points out, this is work that is carried out throughout the 356 days of the year, although now, in summer, information on this important work is being promoted.
The dates of the campaign are crucial for the conservation of the species, since it is the season in which the nesting takes place, that is to say, the approach to the beach of the females to deposit their eggs in the points they consider appropriate, so it is essential that they are not disturbed. As there has been an increase in nests in recent years and, due to the philopatry of these animals, it is possible that a good number of nestings will be recorded again. The general director of the City of Arts and Sciences, Antonio Torres, points out that this is also a good formula for defending sustainability in the environment Marine and fight against climate change.