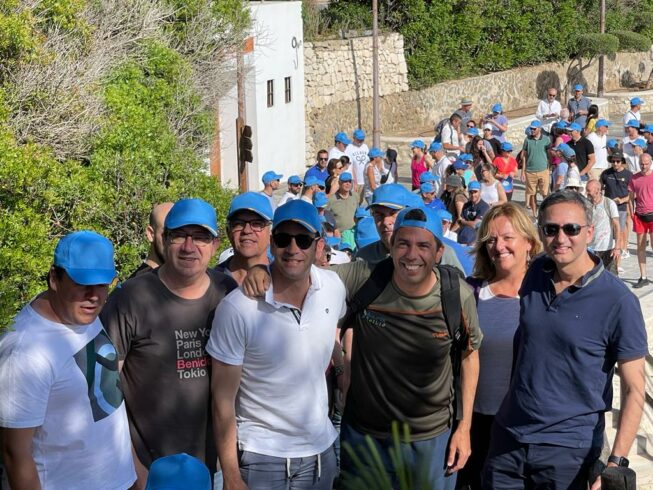 Benissa celebrated yesterday Sunday, coinciding with the International Environment Day, at the proposal of People's Party, a day of shoreline cleanup, which had the participation of the president of the PP of the Valencian Community, and head of the Provincial Council of Alicante, Carlos Mazon.
The day started from the beach of the fustera and toured the green areas bordering the coast and the Benissa Ecological Walk. The participants, mostly PP militants and sympathizers, cleaned the area of cigarette butts, soda cans, plastic bottles and masks. The mayor of Benissa, Arturo Poquet, has positively valued this initiative, and comments that not much waste was collected, because people are currently respectful and are very aware of the importance of taking care of our environment.
for his part Carlos Mazon He took advantage of his attendance to make a call to reconcile sustainable use and enjoyment of the environment, while criticizing the Consell for its "prohibitive eagerness".
In this sense, the President of the PPPC He pointed out that "every small action adds up to keep our beaches and other natural sites clean." The popular leader commented that the key "lies in sustainable coexistence, not in the prohibition" and remarked that agriculture, forestry, livestock, hunting or mountain sports "are essential activities for the conservation of our environment, and also the technology, the infrastructures destined to protect our mountains or our beaches".
Benissa, as usual, calls for a cleanup of its coastline at the end of the summer season, which includes a sweep of both the land area, with the participation of volunteers, and the seabed, with specialist dives. The mayor confirms that this activity will be carried out again this year. Poquet also positively values the work carried out by the public company Benissa Impuls for the proper maintenance of the coastline.
Add that in the coming weeks and organized by the Benissa-Teulada Rotary, a new activity will be carried out to clean the municipality's coastline to face the bathing season in the best possible conditions.