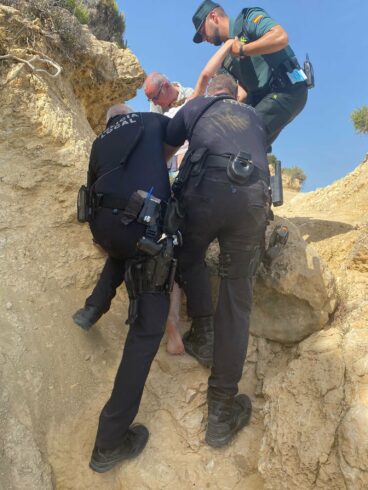 The Teulada Local Police, in collaboration with the Civil Guard from the position of Moraira, located a 55-year-old German woman who had disappeared from her home last Friday, June 17, in a place that was very difficult to access.
The search device was activated around 3:00 p.m., alerted by lifeguards from Les Platgetes beach, Moraira. According to sources, the disappeared woman had left her vacation home at around 1:00 p.m. to go to the beach, without documentation or telephone, so the family, alerted by the delay, informed the lifeguards, who in turn notified the emergency services.
Moraira Civil Guard and Teulada Local Police began the first urgent search efforts, being located around 5:00 p.m. by members of the Teulada Local Police in a rocky area that is very difficult to access between The Platgetes and L´Andragó, finding the woman almost fainted but in a conscious state.
Subsequently, she was evacuated from the area by members of the Teulada Local Police and Civil Guard and transferred to the Teulada Health Center for evaluation with a Civil Protection ambulance.