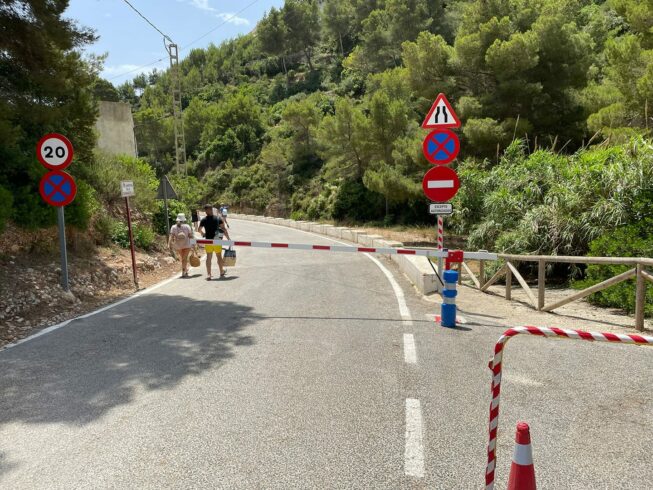 He Town Hall of Xàbia accuses the Provincial Council of Alicante to ignore the requests that the consistory has reiterated since last October regarding the need to act to stop the crowding of vehicles parked on the Portitxol highway.
After the delicate situation experienced the past summers, the municipal technicians and the Local Police recommended the installation of fences or other protection elements along a kilometer and a half approximately, to avoid the parking of vehicles on the sidewalks of the CV- 742, which gives access to the cove portitxol.
After several writings and meetings, the Xàbia government team assures that the Diputación showed a predisposition to meet this demand. However, after half a year of having requested, the City Council accuses the provincial government of ignoring the police arguments and deciding that with the placement of eight vertical signs prohibiting parking lot it was enough to fix the problem.
In response, in the May plenary session, the Xàbia City Council unanimously approved a motion that, once again, insisted on the urgency of adopting effective dissuasive measures both for road safety and to guarantee vehicle access in case of emergency.
A few days after starting the summer season and with the forecast of possible crowds on this road, the consistory affirms that the Diputación de Alicante continues without providing a solution to this problem and now excuses itself in administrative terms that could delay the adoption of measures until the summer passes. In fact, according to the Xàbia City Council, the response to the plenary unanimous petition has been a "type" letter in which it is limited to reviewing administrative regulations and justifying that it has three months to study the petition.
The mayor, José Chulvi, has shown his concern about the security consequences of this lack of interest in assuming his powers on the CV-742 highway and has regretted that neither the technical nor the political part meets a demand that is perfectly justified .