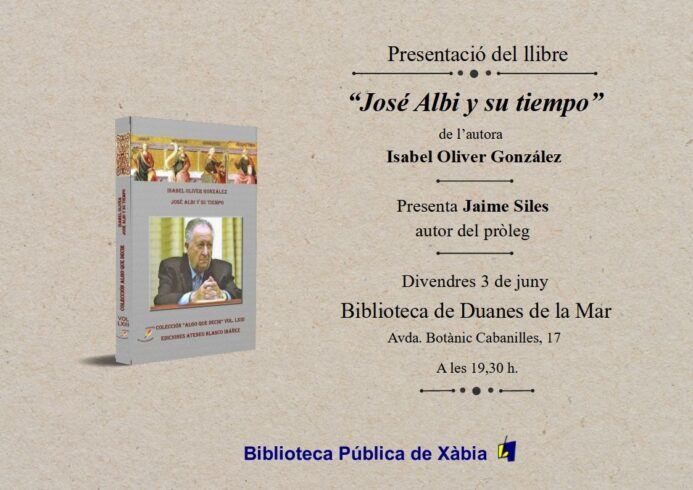 This year marks the hundredth anniversary of the birth of Jose Albi Fita, recognized poet strongly linked to Xàbiawhere he spent much of his life. In order to vindicate his figure, this Wednesday, June 3, the book 'José Albi y su tiempo' is presented. The event is scheduled for 7:30 p.m. at the Duanes Library.
The writer, in addition to being considered the last poet of the Spanish post-war period, graduated in Law and Philosophy and Letters, was a literary critic and translator (he signed great translations of the main poets of French surrealism), receiving the Valencian Letters Award 2002. He even directed, together with Joan Fuster, one of the most important magazines on the Spanish scene: Verbo. Literary Notebooks.
According to the councilor of Culture, Quico Moragues, 'José Albi y su tiempo' is "a great tool and means to disseminate his work, so that both his countrymen and the rest of the world and future generations are aware of the important figure he represents in poetry in Spanish in the second half of the 20th century".
The book, the work of the writer and biographer Isabel Oliver González, intersperses the most relevant historical events for decades with events from the author's own career, a publication with abundant textual and graphic documentation, and which captures the importance of Xàbia for the poet as place where he lives transcendental moments and with which he keeps in contact throughout his life.
A connection that has its roots in his family, the Albi, who occupied a prominent place in Xabiera society and economy since the second half of the 19th century as raisin merchants and vineyard owners. Some time later, with the advent of tourism, this family was also a participant in local development with the opening of a campsite that had modern facilities for the time and an international character.
On a personal level, José Albi cultivated friendship with various people from Xàbia interested in culture, which led him to publish some books in the local Botella printing house -with an exquisite edition- as is the case of the collections of poems from the years 1997 to 2002. Previously, in 1992, he had already published a work dedicated to his people: Jávea or joy, with drawings by Josep Cardona, republished on the occasion of his death in 2010. The Xàbia City Council also published in 1994 the only collection of poems it has in Valencian: The ombrívolo temps of the roses.
The Xàbia Public Library He owns almost all of his work. Some funds that he has recently expanded thanks to the fact that his children have donated a set of books that correspond to the first publications. From the Anthology of Spanish surrealism written in 1952 together with Joan Fuster, until the remarkable doctoral thesis of 1979: Joan de Joanes and her artistic circle.