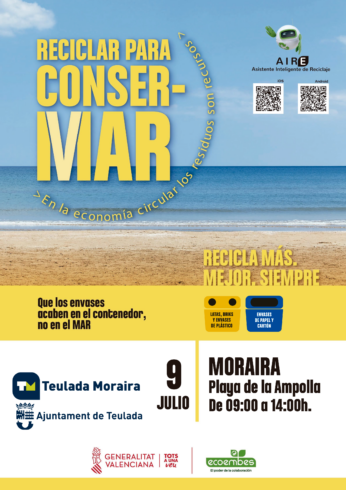 This July 9 the team of Recycle for ConserMar will be installed in Teulada Moraira, specifically in the Ampolla beach, in order to make citizens aware of the benefits of recycling for the environment and the importance of not leaving waste on the beaches.
This is a public awareness campaign on recycling promoted by the Ministry of Agriculture, Rural Development, Climate Emergency and Ecological Transition, and Ecoembes, in collaboration with 20 coastal municipalities throughout the Valencian Community.
Throughout the morning the ConserMar team will assist citizens who come to the booth located on the seafront at the height of Playa de la Ampolla. The objective is to inform and encourage the selective collection of packaging waste generated in the vicinity of the beaches (cans, briks, plastic packaging), in addition to calling attention to curb litter, that is, the abandonment of waste in the beaches and other natural environments (littering).
In addition, the team will resolve doubts about where and how a certain waste should be deposited, making its subsequent recycling possible. These on-site actions make it possible to reach as many residents as possible and make them aware of the importance of recycling in any situation and place.
The initiative pursues "face-to-face" interaction with citizens and to reinforce the importance of separation at home and outside the home to promote recycling. With all this, it helps to reduce the pollution, improve environmental quality and contribute to the circular economy of packaging.
In short, it is about involving citizens as active agents preserving the common heritage that our beaches represent, valuing them for what they are, a natural treasure on whose use and enjoyment a large part of our economic development is also based.
The councilor of Environment, Luis Caballero, has pointed out that "this initiative helps us to raise awareness about the importance of recycling, a basic and vital tool for the protection of the wonderful environment that we have and that gives us so much".