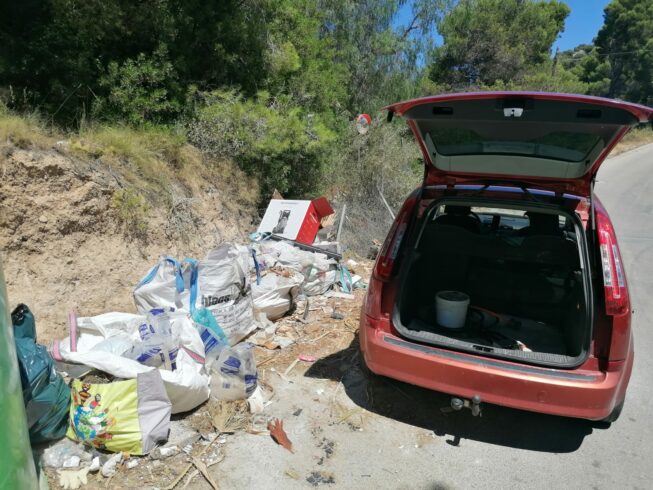 In Benissa wage a merciless war against the illegal dumping. City Hall sanctions offenders with fines of up to 1,500 euros. And it is that since the awareness campaigns are not enough, the executive has launched a special operation with which control is increased against the waste illegal and touches the pocket of those who break the rules.
Municipal sources explain that the Department of Citizen Security has received an indication from the mayor, Arturo Poquet, to tighten surveillance tasks in the hot spots of illegal dumping in the municipality. Coastal area and rural areas.
The mayor emphasizes that after various communication actions and awareness campaigns about the need to contribute among all the citizens of the municipality to keep the streets of Benissa clean, and given the lack of effectiveness of these actions, it has been decided to put, to various teams of the Local police, to work with the objective of redoubling efforts and sanctioning all those people who do not respect public spaces, nor the basic rules of coexistence, taking the streets of Benissa as their private dump.
The sanctions to be applied are typified in the municipal ordinance of citizen coexistence as serious, and can range between 750 and €1,500. Amounts that, although it is true, can be reduced throughout the sanctioning procedure, have a dissuasive nature for a large part of the population.
This specific action, which has been worked on jointly between the technical management of the company Benissa Impuls and the Local Police, will last until the end of autumn, beginning of winter, the date scheduled by the government team to carry out an evaluation meeting that allow you to assess its success.
At the moment, as confirmed by the mayor, a total of 10 sanctions have already been imposed. Fines will be collected through SUMA.
CCTV cameras
In addition, according to Poquet, predictably before the end of the year, Benissa will have video surveillance cameras, which will allow the council to apply sanctions without the need for the physical presence of members of the Local Police. A political project that the Councilor for Modernization, Jorge Ivars, is personally in charge of, and that objectively will allow significant cost savings for the consistory in the specific field of citizen security, according to municipal sources.