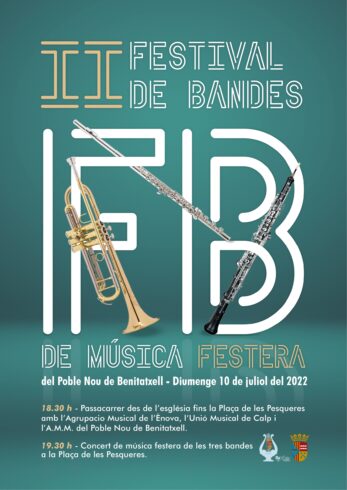 After the success of the first meeting last summer, the Festival of Festive Music Bands of El Poble Nou de Benitatxell returns to establish itself. This Sunday, July 10, the Agrupació Musicomunicipal Santa Maria Magdalena del Poble Nou de Benitatxell will offer a concert together with two invited bands: the Calp-Ifach Musical Union and the Enovense Musical Group.
The day will begin with a novelty this year: a great parade that will go from the Plaza de la Iglesia to the Plaza de les Pesqueres, the place where the festival will be held. The parade will begin at 6:30 p.m., and the musical exchange at 7:30 p.m.
With this festival we want to remember and commemorate the feast of Moors and Christians, which stopped being held in the town in 2012. Each band will play, independently, three musical pieces of festive music: a pasodoble, a Moorish march and a Christian march.