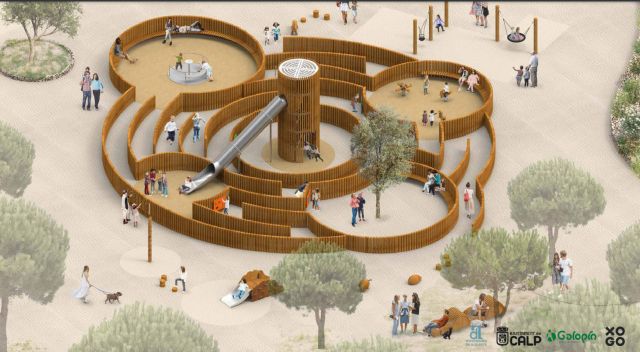 Tomorrow, Thursday July 14, the remodeling opens to the public Parc de la Vallesa, in Calp. This was announced by the mayoress of the town, Ana Sala, in a meeting with the media. This is a project that aims to enhance the spaces in this area by installing game modules and spaces for environmental education with the creation of zones landscaped.
The inauguration, scheduled for 7:30 p.m., will feature animation by "La Fam Teatre" from the Iglesia de la Merced grounds to the Parque de la Vallesa itself. The completion of the Parque de la Vallesa construction project has been financed through a subsidy from the Provincial Council through the "Plan +Cerca 2020" and has involved an investment of almost 300,000 euros.
The inaugural act will serve to open to the public a renewed recreational area, of a singular and unique character, with an innovative design and integrated into the environment.
Project Objectives
Remember that the project provided for two garden areas that allow the spaces to be physically separated without creating a visual barrier and at the same time contribute to the increase in biodiversity by creating points for environmental education.
In the northern part, the bike lane is continued, containers are integrated and lighting fixtures have been renewed. The barbecue area is kept differentiated from the rest with a rockery element that serves as a subtle barrier and that integrates native species.
And perhaps the most striking is the installation of a wooden construction element specially designed for this space due to the Galician company Galopín consisting of a wooden labyrinth articulated on five agoras with game elements and furniture. Is about an iconic item, accessible and inclusive that will be surrounded by greenery.
Remember that the Parque de la Vallesa de Calp is one of the most popular recreational areas in the municipality, its opening dates back to the late 90s, therefore a remodeling was necessary to enhance the spaces in this green area.