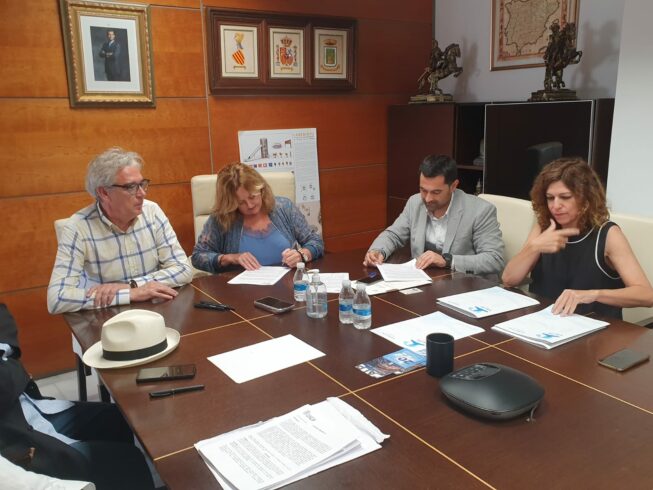 The Town Hall of Calp has signed an agreement that will allow public and private use to be made compatible in an endowment plot and that promotes a real estate complex, in the vicinity of The Salinas, made up of five farms, on an area of 5,900m2, where it will be possible to build a hotel, parking on two floors, a public square and dotacional equipment. In this last farm, the City Council intends to promote the construction of a multipurpose center, with two modules, which could be converted, one of them, into a health center, either a health center or a specialty center. An urban development of great importance, according to the Councilor for Territory, Juan Manuel del Pino.
The plot in question, those almost 6,000 m2, comes from a barter carried out in 2003. An operation that involved the change by the City Council of a plot in Baños de la Reina for this one located in Partial Plan number 2, on Teulada street. This land is currently owned by the commercial Land Company 2020 SL and at the time its expropriation was valued at more than 7 million euros.
In order to avoid its expropriation and the expense that this would entail, the City Council, advised by the urban planner Gerardo Roger, formulated a modification of the General Plan to allow an endowment action under the regime of a real estate complex integrated by the uses of public domain and private domain. . In this way, it is proposed to rule out expropriation and make public endowment and private lucrative use compatible.
2023 Start of works
Continuing with the process, as explained by Juan Manuel del Pino, after the signing of the agreement, the conditions under which the urban complex will be executed are being addressed. The company will present the project report within three months. An urban action that could begin at the beginning of 2023. The objective of the City Council is for the works to start with public actions, such as the square, the parking lot or the multipurpose building. Interventions that are valued at about 3 million euros.
Municipal sources point out that, with this innovative urban operation, which makes it possible to make public and private use compatible, a solution is offered to an urban conflict that could have had a high cost for the municipal coffers. The Territory councilor stressed that a solution has finally been found that will allow the development of this real estate complex, which has become an example, to be carried out.