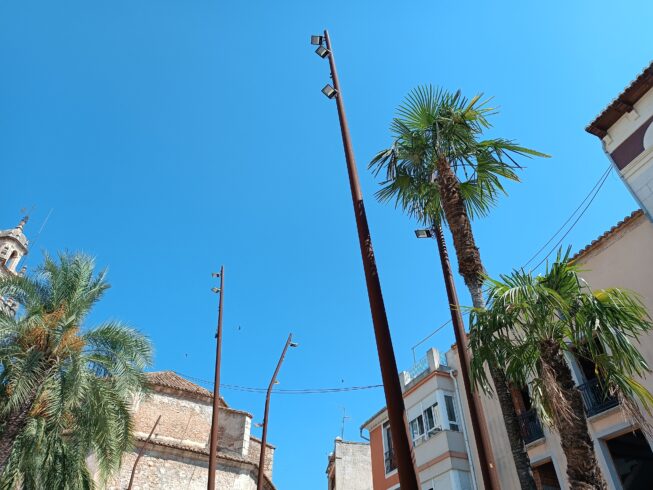 He Pego Town Hall will receive a total of 648,940 euros to renew part of the lighting Township. These are two subsidies for the installation of luminaires with higher performance and lower power, with which to reduce energy spending.
The first of the two grants, for the Low Carbon Economy in Local Entities, for an amount of 474,940 euros, is granted by the Institute for Energy Diversification and Saving (IDAE) through the European Fund. The goal is to replace 542 luminaires. Another small percentage of this important renovation of public lighting (174,000 euros) is financed by the Institut Valencià de Competitivitat Empresarial (IVACE). Upright with which 348 lampposts will be improved.
The luminaires will be replaced by new ones of led technology that will have lighting level reduction through multilevel equipment to adjust it according to the different nighttime hours and the different types of roads.
In addition, existing cabling that is in poor condition will be replaced and new cabling will be installed to unify nearby facilities. The 18 dashboards available to Pego will also be adapted. "The objective is to reduce the cost of the contracted power and thus improve the control of the installations and their billing", explains the Town Planning Councilor, Laura Castellà.
In fact, the council has already renovated 1,291 lampposts of the 2,181 in the Pegolino municipality in recent years. It has also done so through various grants from IVACE from 2017 to 2021. The first of these, in 2017, amounted to 150,000 euros with which 328 luminaires were renewed. The following year, in 2018, the economic amount was 102,500 euros, which was used to improve 230 streetlights. In 2019, 228 luminaires were renewed with an amount of 150,000 euros, while in 2020 there were 272 with financial aid of 150,000 euros. Last year, in 2021, a grant of 150,000 euros was obtained and 233 more streetlights could be changed.
Once the entire renovation process of the 2,181 luminaires in the municipality is finished, the power will be reduced from 355.6 KW to 92.53 KW, and an estimated energy saving of 81% will be achieved. In the economic section. The savings in the economic section are also notable. In these six years of interventions, 57% has been saved on the electricity bill. It has managed to drop from 219,233.10 euros (in 2015) to 93,554.21 euros in 2021. "It should be remembered that a significant percentage of the luminaires still needs to be changed, so the savings will be even greater once all the renovation", points out the Councilor for Town Planning.
Once achieved, "we will be a people more committed to the environment, increasing efficiency and sustainability, lines that this government team has always set as the path to follow," concludes Castellà.