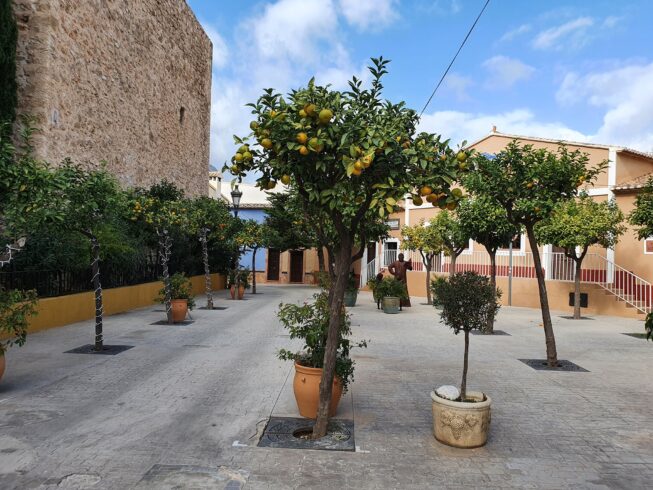 Starting this week, it goes into operation in Calp service door-to-door waste collection for hoteliers in the old town. A service that will be active throughout the summer. According to reports from the town hall, the modification of the service implies that as of today, Monday, July 4, the underground containers will be removed from Plaza del Mosquit, Calle Santísimo Cristo and those located at the intersection of Calle Llibertat with Calle Mayor, and a new location for surface containers is established in the parking lot of the old town at the entrance on Calle Llibertat.
And it will be from Thursday, July 7, when the specific door-to-door collection service aimed at establishments will be implemented. restaurateurs located in the area of historic helmet. In this way, the Calp Town Hall and Acciona, the concessionaire company for the MSW collection service, continue to reinforce the service during the summer. In fact, a few weeks ago a Plan to improve the service during the summer season in which the City Council has planned to invest more than €231,000 and whose objective is to avoid overflows and accumulation of waste and delays in the collection service.
Now there are new modifications in the collection service in the old town so that starting this week the adaptation and implementation actions of the innovations included in the service for the old town will be carried out.
New Containers
The specific door-to-door collection service aimed at catering establishments located in the historic center area involves the distribution by Acciona of small containers to each establishment. These containers must be stored in the facilities of the establishments and taken out onto the public highway from 9:00 p.m. to 12:00 a.m. for later collection by the night shift collection services every day of the week, Monday to Sunday from the night of July 7 to 8.
Once the collection has been carried out, the containers must be kept by the establishments within their facilities so that containers do not remain on public roads outside the waste deposit hours. Establishments can request their container from the concessionaire company ACCIONA by calling 96 583 25 61 and the company will distribute them on Thursday, July 7.
It should be noted that, in addition, to serve the historic center, there will be waste deposit points located on Benissa street, Salvador square and Mare de Deu del Carme avenue.