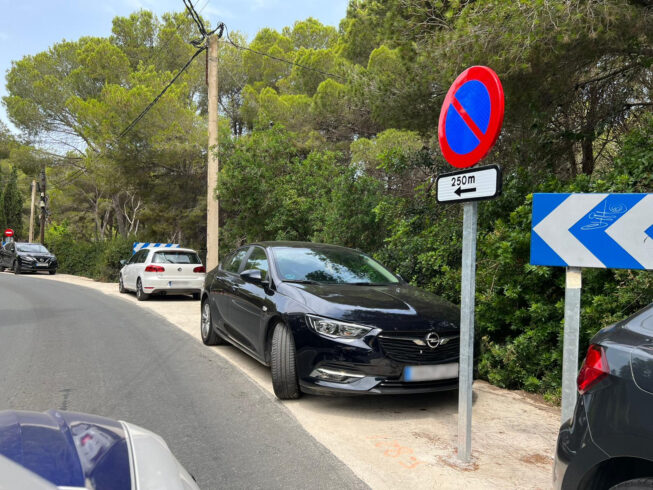 The mayor of Xàbia, José Chulvi, has held a meeting with the Subdelegate of the Governmentor, Araceli Poblador, to address the security problem caused by the irregular parking that is repeated every summer on the CV-742 road that gives access to the Portitxol; especially since a barrier was installed that prevents going down to the cove by car when the parking is complete.
The massive parking on the shoulder of this road causes traffic problems, makes it difficult for emergency vehicles to access and maneuver, and endangers pedestrians who walk in the same lane as cars.
As it is a road that competes with the Provincial Council of Alicante, the City Council cannot take dissuasive measures. Nor does the Local Police have the power to fine or order the removal of vehicles, since it is the Civil Guard who has the power to penalize.
To alleviate this situation, the City Council first requested the Diputación to place elements that prevent parking in the 1.4 kilometer section (from the intersection with Lentisco street to the intersection with Media Lluna street) closest to the creek.
The municipal request, repeated from October to May, was accompanied by police reports, which recommended installing a fence or wooden pylons, both to guarantee their effectiveness and for ease of disassembly in case of need and for aesthetic criteria and public image.
The City Council denounces that, by the month of July, the Provincial Council has only installed vertical signage recalling the prohibition, something that (as the Police already warned) is insufficient and does not prevent parking. This has been verified this same weekend, in which the drivers have ignored the signs and have continued to park in the area in conflict.
Given the lack of response from the Provincial Council, the mayor turned to the Government Sub-delegation in Alicante to at least reinforce control and sanctions in the area. The person in charge, Araceli Poblador, has joined the requirements of the Consistory and advocates preventive action. Request the Provincial Council to immediately reinforce the deterrents to parking, at least in the most problematic points.