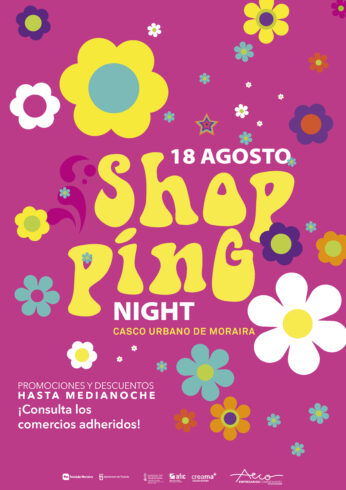 On August 18, starting at 7:00 p.m., the 11th edition of the shopping night with a new theme Flower Power, to promote mutual respect of people and tolerance.
The event, organized by AECO and the Department of Development of the Teulada City Council, has always been a special event that strengthens the relationship between merchants and customers through shopping and leisure. For this reason, this year it will have two points of activity.
On the one hand, one that will be developed between the main commercial axes of the urban center of Moraira. one night of shopping full of live music, showrooms and open doors of the shops participants, tastings, discounts and promotions, batucada, etc. in which the 17 shops will remain open until midnight.
The participating establishments are the following: Malonda Moda; Gifts and furniture Vte.Ferrer, Boutique Taloa; donate espadrille; Jose'phine boutique; Samaruc; Les platges boutique; seaworld; Teulada Winery; Dune; Icicle; Just be; Savina boutique; Barraca33; Bikini box; Tuscany shoes and Martha & Vineyard.
On the other hand, on the esplanade of the Castle, Shopping Night will become the Flower Power Party, with music from the 60's, 70's, 80's and bar service by the ugly MC.
All collaborators will participate selflessly and for solidarity purposes, raising funds for the children of the Hospital the Faith of Valencia.
The Councilor for Development, Rosana Caselles, has encouraged "residents and visitors to participate and collaborate in a night of solidarity, leisure and for all audiences".