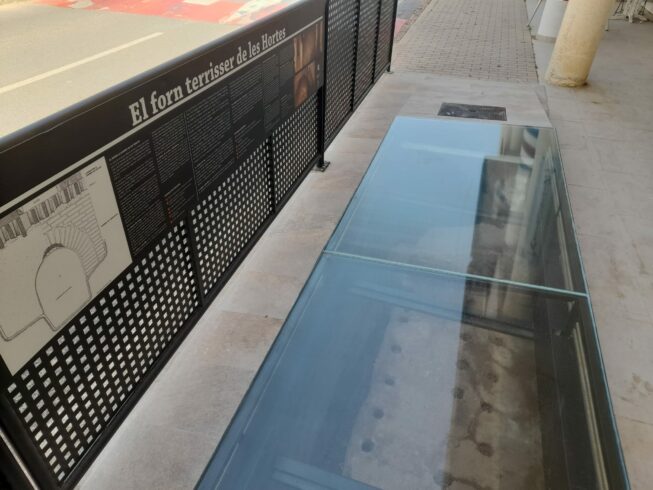 The archaeological surveys carried out in recent weeks at the Roman site of The Hortes, in Xaló, have brought to light, among other elements of architectural interest, a fragmented but almost complete dolium, of which a piece with numerical inscriptions stands out, which could indicate the capacity of this piece of ancient Roman pottery, which could have been used to store and transport came, or oil.
A finding that researchers date back to the 2nd century AD, and which shows that already in Roman age The wine culture had an important weight in the Xaló of the past.
This is confirmed by Gerard Fullana, councilor for Heritage in the Xaló town hall, which positively values the work that has been carried out in this last campaign archaeological in the Les Hortes area. Some polls that began in the middle of June and that were concluded yesterday, Thursday June 30, with a guided tour open to all those interested.
These works have been possible thanks to the collaboration agreement signed between the Xaló town hall and the University of Alicante two years ago. During this time the team of archaeologists have been revealing something more about what Xaló would be like in Roman times.
roman oven
Among the actions carried out, the cleaning, consolidation and enhancement of a Roman-era pottery kiln, which was uncovered yesterday for public knowledge, also stands out. In addition, an information panel has been placed that gives all the explanations about this construction, which played an important role in the Roman villa of ancient Xaló.
MAEX reopening
All the material that the surveys have brought to light throughout the different campaigns carried out at the Les Hortes site, are documented and stored, with the intention of being exhibited to the public in the new MAEX, Archaeological and Ethnological Museum of Xaló, which is currently being renovated and adapted and that the Councilor for Heritage has announced that it will reopen shortly.
In fact, all these findings, the technicians consider that they could form part of a larger archaeological complex on which it is intended to continue investigating in future campaigns.