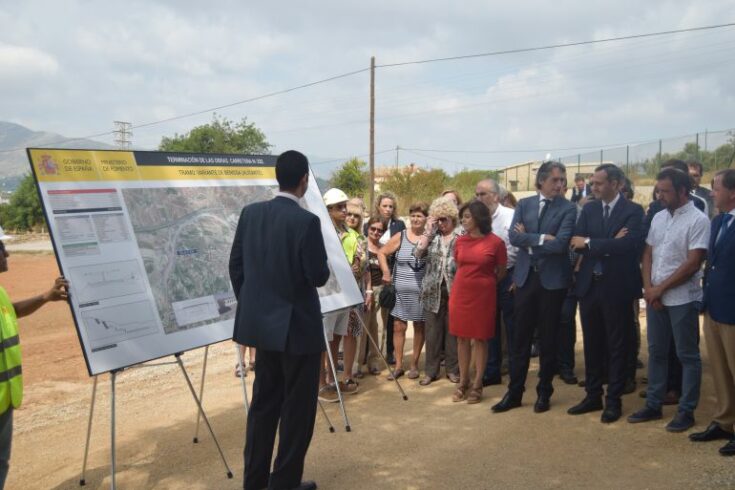 A historical fact. The official opening of the variant of Benissa It already has a date assigned, it will be tomorrow Thursday, July 28, at 12:30 p.m. The act will take place before the end of July, fulfilling the latest commitment of the Ministry of Transport, Mobility and Urban Agenda, and although as of today, Wednesday 27, the works continue to finish off and finalize a project that the municipality has been dragging and suffering for more than 15 years. The inaugural act will be attended by the Government delegate in the Valencian Community, Pilar Bernabé. An action with which it is intended to reduce the intensity of traffic suffered by Avenida del País Valencià, the current crossing of the N-332, as it passes through the urban area of Benissa, reducing road safety problems and pollution.
The works have consisted of the construction of a new 5-kilometre road, with an alternative layout that connects the AP7 motorway with the exit of the urban center of Benisse, facilitating and speeding up circulation, while trying to improve connectivity in areas of tourist interest, such as Teulada, Calp and Benissa, with the AP7.
This action has involved the construction of a viaduct, 3 overpasses and another 3 underpasses, as well as 11 transversal drainage works, 1,540 meters of canalization and 6,800 meters of paths. A major work that has involved an investment of more than 38 million euros.
Historical claim
The mayor of Benissa, Arturo Poquet, although he acknowledges that this action has responded to a historical claim of Benissa that dates back to the 90s, the action that has finally been carried out is far from the initial project. The first, much less impressive than the one that has finally been executed. A work that the mayor has described as pharaonic.
A work that has been an authentic odyssey since in 2007 it was awarded to a company that declared, shortly after, bankruptcy, which paralyzed the work, until 2018 when the works were resumed until today which are already completed.
The mayor has remarked that it is necessary to celebrate that a work that the residents of the municipality have suffered especially has finally been finished and that it is finally going to open to traffic.