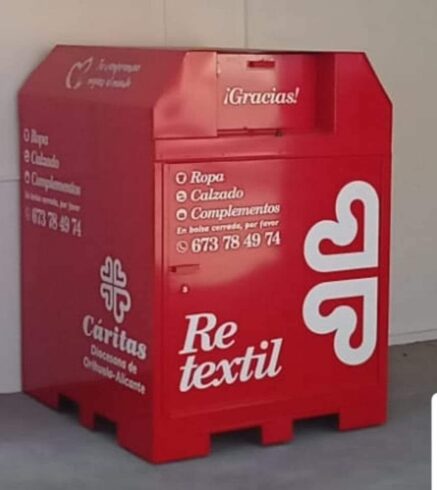 Within a month they will reach Calp the red bins solidarity of caritasThis was announced by this religious NGO, Andrés Ivars, director of Cáritas Calp.
About 8 of these containers will be installed, which serve not only to get rid of the clothes that we no longer want, but its purpose goes much further, because when any textile garment is deposited in one of these red containers, a recycling process begins that serves as training and job learning for people with few opportunities to access a job , and also gives a new use in solidarity to the clothes that we no longer use.
And it is that, as Ivars explains, this project that already works in many other municipalities, from different Dioceses, has a double objective, on the one hand, it serves to generate job for people who have difficulties accessing the normal labor market. And on the other, to cover a basic need that many people without resources have, respecting the environment and nourishing the parish wardrobes of Cáritas or solidarity stores.
The red containers that will arrive in Calp will be installed in private places, but with easy access for anyone who wants to contribute to this good cause.. Ivars advances that they will be placed in the local parishes, in the Tennis Club or in the Aitana Galleries Center.
Prior to its start-up, an informative talk will be convened to publicize its operation and the important social work that this project promoted by Cáritas contributes.
More Solidarity Actions
From Cáritas Calp they continue their work of helping and supporting all the people who need it, those who are most vulnerable and who are at risk of social exclusion, trying to cover their basic needs and accompanying them to involve them in society. The massive arrival of refugees from Ukraine to the city of El Peñón has forced them to increase their solidarity activity without forgetting the rest of the local families who continue to come to this NGO.
In this sense, Ivars recalls that the donation of clothing, especially for children, is one of the daily needs to be covered, which is why Cáritas has addressed the Calp Town Hall and the municipal schools to make use of the donation in solidarity. clothes that accumulate in schools at the end of the course, due to forgetfulness of the students and families themselves.