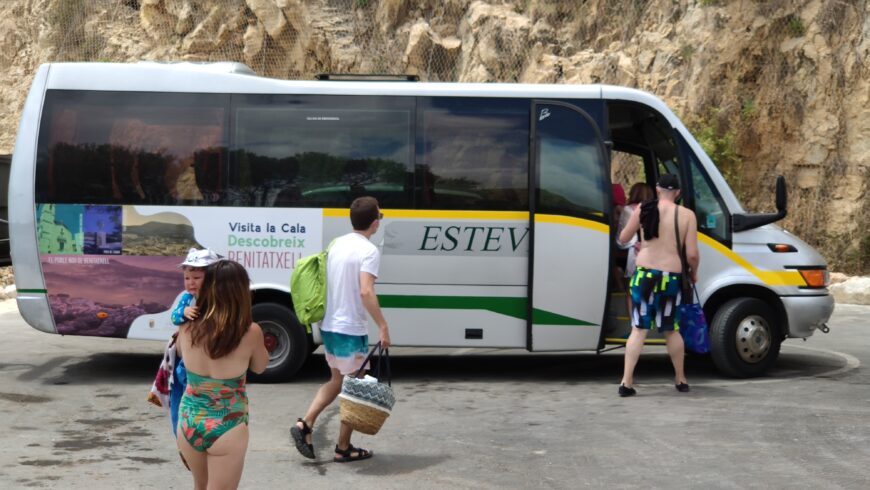 Starting this Saturday, July 2, the free shuttle bus authorized by the City Council El Poble Nou de Benitatxell will provide a service to take bathers to the Moraig cove. After the pilot experience last summer, this year it has been decided to expand the collection points, which go from two to four.
Thus, the bus will leave the city center in the morning and will also stop at the car park in front of Masymas, the Lady Elizabeth school car park and, finally, the cove. The same route, but in reverse, will be done at noon, and in the afternoon it will start again. In addition, every 15 or 20 minutes it will lower and raise the bathers from the cove car park to the beach. A comfortable alternative to the steep slope that becomes especially difficult to climb on very hot days, with the hammock and the cooler on your back.
Schedules
On Saturdays, Sundays and holidays it will make the first exit from the car park next to the Municipal Cemetery at 9:30 a.m., and it will return from the cove to the urban center at 2:00 p.m. In the afternoon it will leave again at 4:00 p.m. from the cemetery and will return to the last bathers from the beach at 6:30 p.m. During the week, the schedule will be the same except for the first departure, which will take place at 10:00 a.m. instead of 9:30 a.m.
This service seeks to decongest the coastal area of vehicles and, at the same time, promote visits to the urban center of the town. Later, in the second half of July, the new access control system to the Moraig will be put into operation with paid parking. In addition to the residents of Benitatxell, users who choose the bus as a method of transport will be exempt from payment.