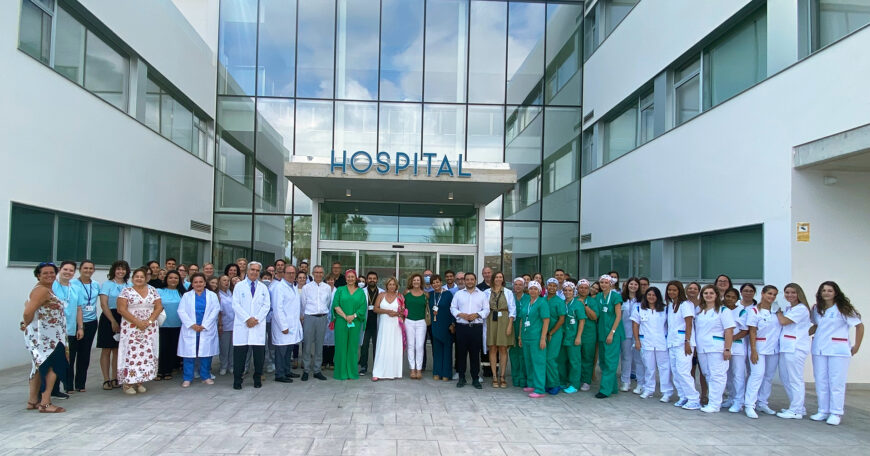 The new Hospital HCB Denia of the HCB Hospitales group has started its activity offering outpatient consultations with the best specialists in the Marina Alta, the radiodiagnosis area and the 24-hour emergency service.
The entire Management of HCB Hospitales has organized a welcome event for the entire HCB Dénia team made up of medical, health, administrative, admission, call center and interpreters, pharmacy, laboratory, operating room, cleaning, maintenance, computing, technicians, cafeteria and kitchen, and public relations.
The General Director of HCB Hospitales, Dr. Ana Paz Brown, has congratulated the entire team for the great work carried out "to make this project a reality in which each and every one of you are now the protagonists and I am sure that you will put At the service of patients, all your love and good professional work."
All the teams have started this new project with enthusiasm that starts with a very clear premise: to apply the Quality of Care and Patient Safety standards that govern Hospital HCB Benidorm on a day-to-day basis, a know how and way of working for which a year ago he obtained the most prestigious health accreditation in the world, the Joint Commission International (JCI).
The HCB Dénia Hospital plans to open in phases to guarantee the quality of each care circuit: in this first stage, outpatient services and medical specialties are offered, which include the laboratory and radiodiagnostic service, as well as the performance of various tests diagnostic; In addition, the emergency service is open 24 hours a day.
The opening plan of the HCB Dénia Hospital contemplates a more advanced phase in which the entire surgical block and the Intensive Care Unit will be opened, which will lead to the expansion of the use of Hospitalization.
HCB Dénia is the second hospital of the HCB Group, a private and family health group that brings its own model of health care to Dénia, a new model of private health in the Marina Alta based on proximity, warmth, Quality of Care and the Patient safety.
The HCB Dénia Hospital
HCB Dénia has 6,500 m² of bright and spacious facilities that accommodate more than 40 medical services including hospitalization, external consultations, ICU and emergencies.
• More than 40 services and medical specialties
• Admission area and team of international interpreters
• Hospitalization with 54 beds
• 18 medical consultations
• 24 hour emergency service
• Intensive Care Unit (ICU) with 7 boxes
• Operating rooms
• Café
• Physiotherapy and Rehabilitation Room
• Ambulance Service
• Own parking