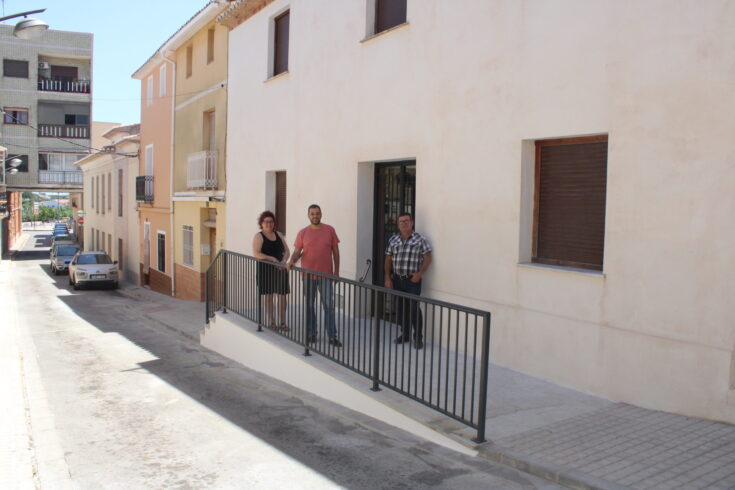 The Ondara City Council completes the accessibility works to enable an accessible and safe entrance to the Municipal Trinquet of Ondara, which began in the middle of last June. The Mayor of Ondara, José Ramiro, has visited the performance carried out with the trinquet, accompanied by the Councilor for Heritage, Raquel López, and by the Councilor for Building Maintenance, Miguel Gomis.
During the visit, he recalled that these plays allow to improve the accessibility and the security of access to the Municipal Trinquet, since this sports facility had architectural barriers, due to the fact that it is a heritage building dating from 1872, and he recalled that this accessibility has been thought of in the year of the 150th birthday of the Trinquet Municipal, to value the building.
The main access door to the Trinquet, on Calle San Benedicto, consisted of two steps next to a narrow sidewalk, on a side of the street where parking was allowed, which made access to the building difficult. The actions promoted by the City Council have included the creation of a ramp for access to the trinquet for people with reduced mobility, so that the building is respected and at the same time makes it more accessible and a much safer entrance is achieved for users. , as a railing has also been placed to separate the entrance to the building from the passage of vehicles on the street. The sidewalk has also been widened at that point, making it wider to place the ramp and ladder on the other side, and from now on, parking is not allowed on that section of the street, for more security.
To carry out these works, the Ondara City Council has received a grant of the Valencian generalitat of 11,218.91 euros, which represents a percentage of 63% of the cost of the work. The subsidy is part of the aid intended to finance actions to be carried out by municipalities and minor local entities of the Valencian Community, referring to facilitating the accessibility of town halls and public buildings for the elderly, people with disabilities or functional diversity and other public uses, by removing architectural barriers.