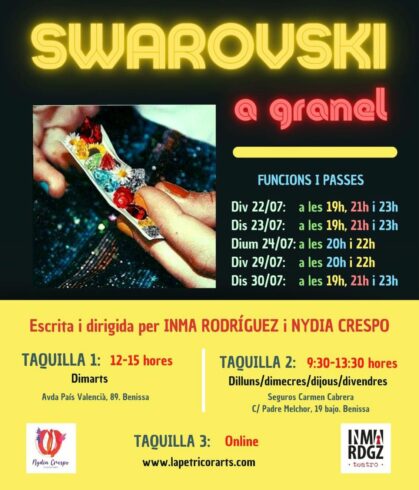 Swarovski in Bulk, is the title of the proposal theatrical which premieres today, Friday July 22, in Benissa, but that can be enjoyed, in the different scheduled passes, until July 30 in the town. Led by Inma Rodríguez and Nydia Crespo, authors and directors of the work, some 35 actors and actresses They will interpret through a total of 11 scenes, intertwined, stories, realities and existences, which show the soul of people. A proposal theatrical which intends to take a tour of the oppressions that we suffer every day, according to the promoters of this theatrical project.
Music, singing, interpretation, dance, audiovisuals,... a form of artistic expression that will be staged in the Porsecol warehouse, located at the entrance to the urban area of Benissa from Teulada. Almost two hours of unprecedented show, which is born here, in the region.
Tickets can be obtained online, or in person at the ticket offices located at Avenida País Valencia, 89 and at the Seguros Carmen Cabrera facilities. An intense and daring theatrical experience, which is very close to us, in Benissa, and to which Nydia Crespo and Inma Rodríguez invite us, convinced that we will be impressed by this experience, which they describe as powerful, joyful and daring.