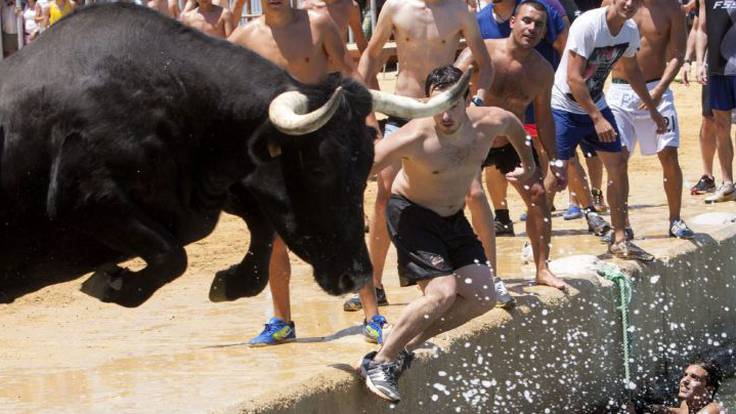 With the arrival of the festivities in the municipalities of the region, an attempt is being made to reopen a debate on some traditions that are perpetuated despite the rejection they cause in certain social sectors. We are talking about Els Bous al Carrer. From the Pluto Animal Shelter, has been started, through the platform change.org, a petition addressed to the Teulada City Council, in which it requests that they "put an end to the bous a la mar".
under the motto Stop Bous a la Mar, Grace Boas, on behalf of the animal protector Pluto, defender of animal welfare, spreads this campaign and encourages the population to stamp their signature against celebrations that they consider have no place today. And he claims the need to put an end to some outdated and cruel traditions.
A request that is not new, since as Boas recalls, different groups, also from the region, or individuals in a private capacity, have used this same platform to gather support against some bullfighting festivities that represent "a form of gross entertainment against animals ». A new petition, in order to open a definitive debate that ends the mistreatment of bulls.
Just today, Tuesday, July 19, the bullfighting acts of the program of the patron saint festivities of Moraira, with the traditional Bous a la Mar. Some shows against which the animal protectors mobilize, convinced that these acts entail suffering for the bulls and cows that participate. Warning that many of them are injured.
Boas assures that society is prepared for change in favor of the defense of animals, what is missing are politicians capable of making complicated decisions like this.
Through the change.org platform, the greatest number of support possible is sought to end a tradition that has no place in our times, according to the promoters of this campaign. Boas points out that traditions that involve suffering do not deserve to continue to exist, and invites to open a real debate on this subject, an exchange of argued ideas.
The spokesperson for the Animal Protection Agency considers it necessary to reassess a practice, which, like others, has been discarded over time when it has been verified that they are not correct. Answers like, "If you don't like it, don't go," insists Grace Boas, are useless.