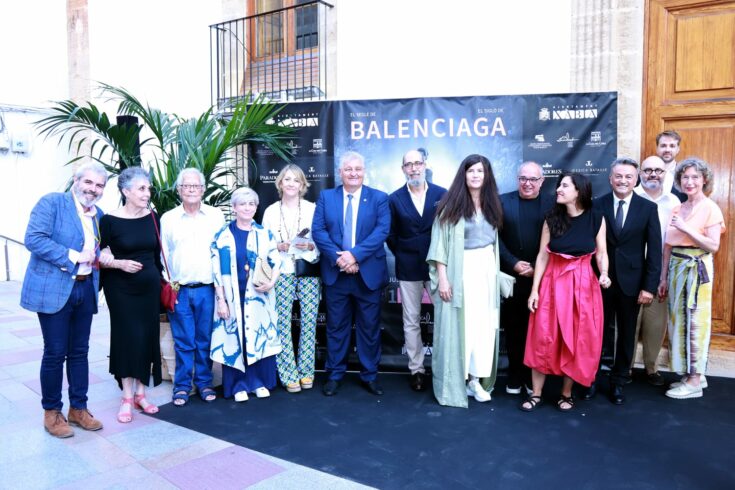 Curated by Pedro Usabiaga, Balenciaga's century It's a kind of tribute Xàbia to the most international master of haute couture who passed away 50 years ago while spending one of his usual stays off in the municipality. This was remembered by the mayor, José Chulvi, who stressed that in addition to being one of the most influential people in fashion of the 20th century and undoubtedly the most relevant Spanish designer in history, Balenciaga was "a man full of sensitivity, talent and energy, which made the world a more beautiful place".
For this reason, the mayor has agreed, it is especially relevant that Xàbia chose to spend his time off, forming part of the "group of intellectuals, artists, thinkers and influential personalities from politics and business who established their business here during the 20th century. little personal paradise".
"Today, we not only have to feel a legitimate pride for that choice and value their immense artistic legacy, but we also have to defend and preserve the spirit of that town that they chose from among all possible destinations" has advocated the city manager. A place "characterized by the richness of its landscape, by the harmonious encounter of the sea and the land and by the life that could be made here, full of fun and stimulation, without a doubt, but also full of calm" he highlighted.
One of the cultural stimuli this summer will undoubtedly be the cycle in memory of the couturier promoted by the Department of Culture directed by Quico Moragues and which starts today, with the exhibition that will bring whoever visits it closer to who Balenciaga was: from its origins to years of splendor and the legacy he left in fashion. Organized chronologically and distributed among the three rooms, you can see cocktail dresses, afternoon and evening pieces, as well as two bridal gowns, coats, hats and accessories (most of them on loan from private collections and rare in museums). But also photographs, personal objects or references.
Other appointments in the program are the projection on July 14 at the Jayan cinema of the film the invisible thread, a conference on the designer in Jessica Bataille's studio (August 5) or the concert The sound of its two shores with music from the Basque coast and the Mediterranean performed by the soprano Teresa Albero and the pianist Jesús Gómez.
The mayor wanted to congratulate the councilor and thank the support of the Parador de Jávea and the Jessica Bataille Studio in this ambitious cultural project and has invited the residents to enjoy all the events (you can obtain more information both in the available brochures both in the House of Culture, Tourist Offices and in the rooms where the exhibition will be held as well as in the municipal website).