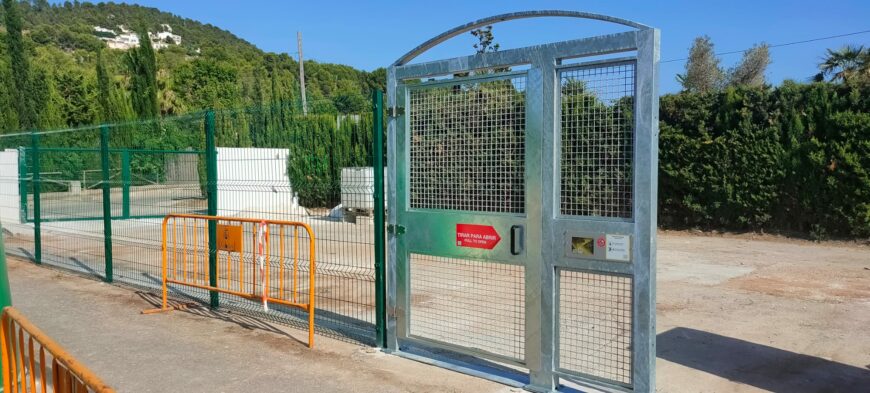 One of the changes brought about by the new contract for the collection service of waste and street cleaning is related to the green dots. The growing non-civic use of these spaces, which are spilled daily outside the containers and where belongings, furniture or materials are abandoned instead of being taken to the ecopark, has led to a reconsideration of the management system and for this reason its enclosure is included in this contract.
The intention of the Department of Services is that they can only be used by residents of the area, who will be given an identification card that will allow them to open the enclosure. In addition, the venue will have video surveillance to control possible misuse or spillage and be able to penalize them.
The councilor Kika Mata has explained that the change will not be immediate but for the moment the fence has begun to be installed in some of the points such as Rafalet or Cansalades. In the coming months, the transition with the security system will be completed and residents will be contacted to manage the distribution of accreditations by address.
Mata has taken the opportunity to ask for citizen awareness on the issue of waste since the municipality dedicates a lot of means to its maintenance and even so it does not manage to keep a dignified public image. The mayor has ensured that all the green points are cleaned daily first thing in the morning and in a few hours their appearance is once again disastrous.
Mata pointed out that behind this situation, in addition to uncivil citizen behaviour, is the general change that is taking place in the waste sector at an industrial level. There are many companies that see how the managers have hardened the conditions to accept them and require them to classify and separate them depending on their danger and characteristics. This has made illegal dumping proliferate not only in Xàbia, but at a general level.
In view of this, remember that the Green Points are municipal facilities to facilitate the selective collection of urban waste of domestic origin, especially when disseminated, and that in no case is their use allowed for professionals who carry out a lucrative activity, much less generated in other municipalities. (Sanctions are up to 750 euros).
The waste that can be deposited at the Punts Verds is the organic fraction, light packaging, paper and cardboard, glass, vegetable oil, clothing and footwear, and household garden waste. The rest must be taken to the Ecopark (in the Camí de Les Sorts).